TRAINING COURSE ON PERSONAL AND SOCIAL RELATIONS, ENVIRONMENT, SAVING AND SPENDING, MY GOAL, MY COMMUNITY
Date : 2018-10-29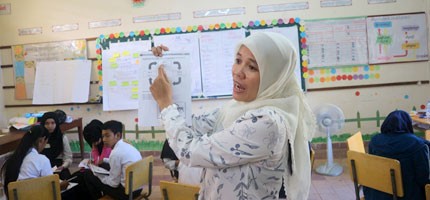 The English Access Microscholarhip Program (ACCESS) hosted its training course focusing on self-development, social relations, environment conservations, savings, spending, my goal and community engagement which took place on 26-29 October 2018 at KAPE's central office in Provincial Teacher Training College (PTTC) of Kampong Cham province. This training course was attended by 44 participants, whom 41 of them were students from Peus 2 high school in Krouch Chmar, 2 trainers of English including staff from KAPE as well.
This training course was aimed to let students understand self-development through communications, savings and spending, environment conservations, determining goals for the future and community engagements. Out of studying English in school, they can also study social circumstances outside the school and can develop their own capacities to grow model youths and future leaders. This was particularly to strengthen the students to get more courageous to freely express their ideas and very effectively use English.
A student refused to show her identity, who attended this training course, said that, "I am very happy because I attend this training course. This is my first time that I have just started to learn English with native teacher. It is difficult for me to listen to native speaker accent but I can do. In addition, I have expressed my ideas with my friends and did different activities in various group discussions. It makes me know more how to critically think about topics provided by the teacher to work in group discussions. One of the training lessons, that I mostly remember, is to determine a clear goal for my future with clear steps to practice to achieve my goal. I don't feel bored during this 4-day training course because I have learned reflective games to improve critical thinking skills, express personal ideas and do presentations, etc. In my conclusion, I really want KAPE to organize such training course next time."
The trainer said that, "I am so much pleased to have shared my knowledge to all ACCESS students especially to all who are from the far areas. They are trying hard to listen to my explanations and actively participate all activities. I believe that they will use what they have learned from the training to apply for their daily livings. Moreover, I hope I can have time to join with them in the future."
As a result, the training course provided much knowledge to students to apply for helping develop their schools and communities. The training also provided space to them to express own ideas in English discussioin such different cultures, knowledge, economics and various skills. The program has made students be easy to learn and understand things around the world especially the technology which is required English literacy.
Link to other Website
International NGOs
Local NGOs
Media
Ministries of Royal Government of Cambodia
Other links
42
Preschool(s)

172
Primary Schools

110
High Schools

6
Higher Education Institutions

120,831
Students

2,806
Teachers/Directors

1,496
Stakeholders