Never left hope even met the most difficult time in the past
Date : 2015-12-20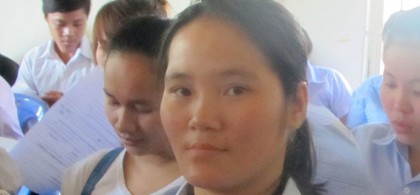 Dany, a CTSP student who is studying Finance and Banking comes from a family of poor condition living in Kosh Sotin District, Kampong Cham Province. Her house was situated on the riverside and was completely broken because of land slide during the flood in 2011. Her father died several years ago, but Dany mentioned that her father had no job and was just staying at home because he was blind and so only her mother had a job, selling vegetables on her bicycle in the village. "We did not have a plot​ of land to rebuild a house for us, but, now I am allowed to live at my brother's house." said Mrs. Chhut Sokchea, Dany's mother. Her younger brother stopped studying and went to work as a laborer on a cassava plantation far away in Rattanakiri province with one of her neighbors.
Having the opportunity to studying at a university, Dany feels proud of herself and so do some of her neighbors too. She was introduced by one of the elders of her neighbors to stay at one of the Buddhist Chinese Temples which is not far away from the university. Living there she has had the chance to study Chinese and learn to make soybean and pumpkin juices. She helps to takes these products to the market or brings them with her whenever she goes to university to sell in order to find some funds for the temple to support poor students like her living there. "I took around 10 to 15 bottles of soybean and pumpkin juices to sell to friends in the class, but now I am not allowed by the exclusive canteen owner in the university. However, it is still available outside the university and it is run by other members." Dany mentioned.
Dany wants to share what she has learnt from the temple to her friends a few months ago she became a club leader of Chinese language with around 15 CTSP students joining in her club, but she stopped it because of a health problem, but will start it again when she gets better. Dany said "As you could see I could speak a little Chinese to Woo, the intern of TAF during her visit".
Dany hopes that she will have a good job in the future because she is now studying English, Chinese,in learning forums, computer short courses and her skills are getting much better now that she can practice in the computer lab every day.
---
42
Preschool(s)

172
Primary Schools

110
High Schools

6
Higher Education Institutions

120,831
Students

2,806
Teachers/Directors

1,496
Stakeholders