FIRST DEBATE AND PUBLIC SPEAKING COMPETITION FOR COHORT 3
Date : 2017-09-02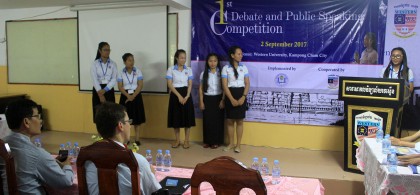 KAPE held a 1st Debate and Public Speaking Competition by cooperating with Western University at the University site, in aiming to provide the scholarship students with opportunities to present about their study results after they have been supported by the Cambodian Tertiary Scholarship Program (CTSP), funded by The Asia Foundation (TAF).
The competition was twofold. In the first session of public speaking, seven competitors had to cover a topic of their choice: 1) Water saves life, 2) Dropping out of school, 3) Advantage of reading, 4) My mom, 5) Education is everywhere, 6) Keep going and 7) Advantages and disadvantage of TV.
The next session was a debate focusing on "Men Are Higher Achiever Than Women". Two teams of three girls were invited to compete each other by raising reasons to refute or support this assertion. All the girls played the game with enthousiasm and the debate was tight.
This was their first time and some of the competitors were a bit nervous at the beginning, but they overcame their anxiety to show their skills and smartness in front of their classmates and the 3 judges.
During the preparation and the competition itself, they learned a lot of things such as how to be confidently standing in front of audiences, how to control their facial expressions, how to learn the audience feeling as presenting on the podium. They also learned more lessons to organize the debating and public speaking competition in the following times.
All the competitors were very happy because they got awarded after the competition. They were scaled to upgrade their performances such as voice, gestures, body language, characteristics, attitude, intonation and changes of performances. The competition would be requested to conduct one time per year.
Link to other Website
International NGOs
Local NGOs
Media
Ministries of Royal Government of Cambodia
Other links
42
Preschool(s)

172
Primary Schools

110
High Schools

7
Higher Education Institutions

120,831
Students

2,806
Teachers/Directors

1,496
Stakeholders