HCC Distributed soaps and posters to 708 students
Date : 2020-05-01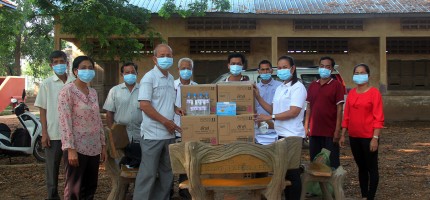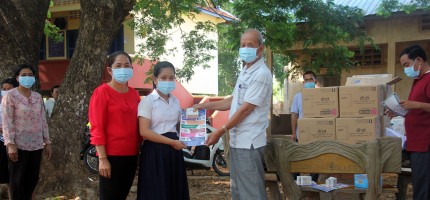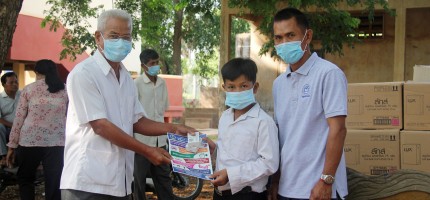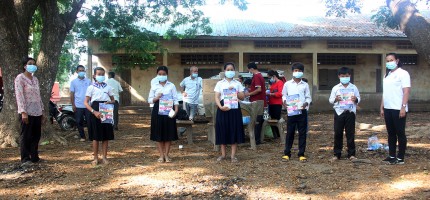 Happy Cambodian Children (HCC) project distributed soaps, coronavirus/COVID19 prevention and learning apps posters to target students to help them prevent the spread of the COVID19 epidemic by learning how to wash their hands mostly frequently. Particularly during the closing school hours, all students can study at home by themselves on "Ann Khmer: bit.ly/ann_khmer", "Sorse Khmer: bit.ly/sorse_khmer", "SmartBooks: Android: bit.ly/kapekh_smartbooks, or IOS: bit.ly/khmer_smartbooks" and "Roeung Obrom: bit.ly/roeungobrom." The project was organized a short meeting by inviting village chiefs, school directors, teachers, students and students' representatives to receive soaps and posters.
Mr. Duch Leik, Director of Han Chey Primary School, said that, "I would like to express my deepest gratitude to Kinchan Stiftung, the donor of the Happy Cambodian Children (HCC) project, who has continued to support my students as well as other schools during COVID19 outbreak is spreading all over the world. HCC provides hand soaps and learning apps and COVID19 prevention posters to 708 students in my school. Obviously, even though the school is closed, the teachers still have weekly meetings and go visiting students' houses to facilitate their learning activities and provide information about learning on Mobile phones, TVs and KAPE's learning Apps for improving students from Grade 1 to 3."
Therefore, HCC is strongly implemented to ensure that its beneficiaries have good education on hand sanitation and coronavirus/COVID19 prevention especially the ways that the students can study at home easily. HCC is funded by the Kinchan Stiftung Foundation.
Link to other Website
International NGOs
Local NGOs
Media
Ministries of Royal Government of Cambodia
Other links
42
Preschool(s)

172
Primary Schools

110
High Schools

6
Higher Education Institutions

120,831
Students

2,806
Teachers/Directors

1,496
Stakeholders