KAPE HOSTS VISIT BY KING MONGKUT'S INSTITUTE OF TECHNOLOGY LADKRABANG TO PROMOTE NEW GENERATION SCHOOL SCHOLARSHIPS
Date : 2018-07-13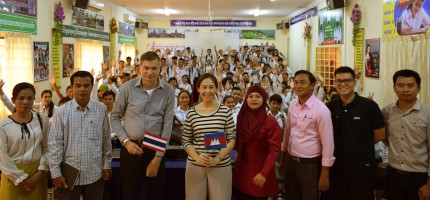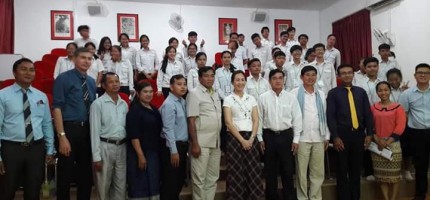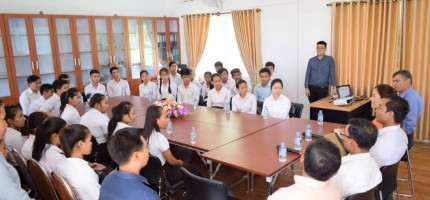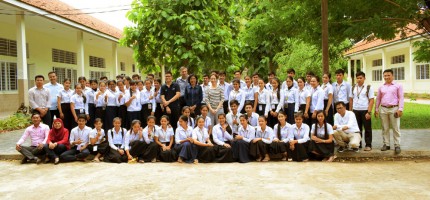 KAPE facilitated a visit for the Assistant Dean of International Affairs of the Faculty of Engineering at King Mongkut's Institute of Technology Ladkrabang (KMITL), Thailand's largest technology institute. The purpose of the visit was to help KMIT better understand the educational setting in Cambodia and Cambodia's New Generation School Reforms. These have been national reforms intended to create a new kind of Cambodian public school that provides intensive training in the STEM subjects. This visit took place from 11 to 14 July 2018.
KAPE organized meetings with key officials in the Ministry of Education, Youth and Sport as well as encounters with administrators, teachers, and students in selected secondary schools as well as the Provincial Office of Education, Kampong Cham Province. The visit included fact-finding visits to a number of New Generation Schools in Phnom Penh, Kandal Province, and Kampong Cham Province including Sisovath HS, Hun Sen Kampong Cham HS, and Prek Anchanh HS. Representatives also met with students from Preah Sihanouk HS, Dae Doh HS, and Sambor Meas HS in Kampong Cham Town as well.
KMIT Representatives made numerous presentations at each visited school in order to describe the program there and explain how to apply for admission. KAPE is now the designated representative for New Generation Schools in Cambodia and has signed an MoU with KMIT to coordinate future cooperation with the Institute. The purpose of this MoU is to facilitate co-funding of scholarships to KMIT as well as provide opportunities for Cambodian students to attend the Engineering Summer Camp in Bangkok every year, which is funded by the Institute. KAPE has stressed that scholarships will only be provided to those students who can demonstrate that they will return to Cambodia to use their new knowledge to develop Cambodia's economy and society.
Link to other Website
International NGOs
Local NGOs
Media
Ministries of Royal Government of Cambodia
Other links
42
Preschool(s)

172
Primary Schools

110
High Schools

7
Higher Education Institutions

120,831
Students

2,806
Teachers/Directors

1,496
Stakeholders