Education Access Officer​​ (1 position wanted)
Kampuchea Action to Promote Education (KAPE), a local NGO based in Kampong Cham, seeks a National Candidate to fill the position of a full-time Education Access Officer, based in Kampot Province. KAPE is a well-established local NGO working across Cambodia to develop the capacity of schools and communities to fulfil the right of every child to have a good quality and effective education. The position will be placed in a new project known as, Consortium for Sustainable Alternatives and Voice for Equitable Development (CO-SAVED), supported by the European Union (EU). This project is to be implemented in 70 Primary Schools and 18 Lower Secondary Schools over a period of four years starting from January 2021. The candidate should have excellent knowledge of primary and secondary education and a strong training background.
Roles of the Education Access Officer in Summary: This position is a part of the education and wash team responsible for the technical quality of project implementation. She/he will be responsible for program planning relating to school access issues, collecting data from schools, advising school directors on access issues, implementing the Early Warning System, setting up catch-up courses at upper primary, using a database developed by KAPE, and supporting 'green' life skills education programming using over 30 manuals developed by Civil Society, and supporting the implementation of Trey Visay, a career counseling app. She/he will work under the supervision of the KAPE Provincial Coordinator.
Main Duties:
Support the implementation and management of the Early Warning System.
Prepare Catch-up courses at upper Primary (grade 6) to improve literacy and numeracy skills
Train teachers and school directors to administer Catch-up Courses
Become familiar with the implementation manual governing how KAPE implements its scholarship program.
Provide capacity building to Local Scholarship Management Committees who implement the scholarship program.
Provide cash support to vulnerable selected students of grade 7.
Track students' learning result and attendance list.
Become familiar with the implementation manual governing how KAPE implements its 30 life skills.
Provide capacity building to teachers and school directors to effectively use KAPE life skill manuals.
Follow up teachers teaching life skills to students.
Work with schools to organize parents' meetings to raise their awareness about more relevant life skills education.
Create a setting where Trey Visay, a career counseling app, can be easily accessed in the library.
Conduct training to lower and upper secondary school students about assessing their job/careers using Trey Visay.
Promote parental awareness about career counseling activities.
Conduct Project Monitoring and Evaluation activities.
Work closely with project partners, including Aide Et Action (AEA), Bandos Komar (BK), Buddhism Social Development Action (BSDA), and Association of Municipalities, Districts, Communes & Sangkats (AMDCS-Kampot), as well as other relevant partners.
Liaise with stakeholders including teachers, directors, local authorities, District Offices of Education (DOE), the Provincial Office of Education (POE), parents, and children.
Prepare advances and clear budgets for project activities.
Follow activities and budget on a weekly, monthly, and quarterly basis.
Report project activities to the CO-SAVED Provincial Coordinator on a quarterly basis.
Requirements:
Bachelor's Degree or equivalent in Education
At least 3 years of working experience in an education development project in the formal education sector
Experience in community mobilization and school access issues.
Good facilitation and counseling skills
Ability to work as a team
Strong ability in Microsoft Office (Word and Excel)
Ability to communicate in English
Willingness to work in the target Province
How to apply: Send your CV and Cover Letter to the email address saran@kapekh.org with cc to run@kapekh.org by mentioning the specific job title in the subject of the email: "Education Access Officer"
Applications not following these indications will not be considered. Please note that only shortlisted candidates will be contacted. Closing date: 31 March 2021, 5:00PM.
If you want PDF file, please click the announcement below: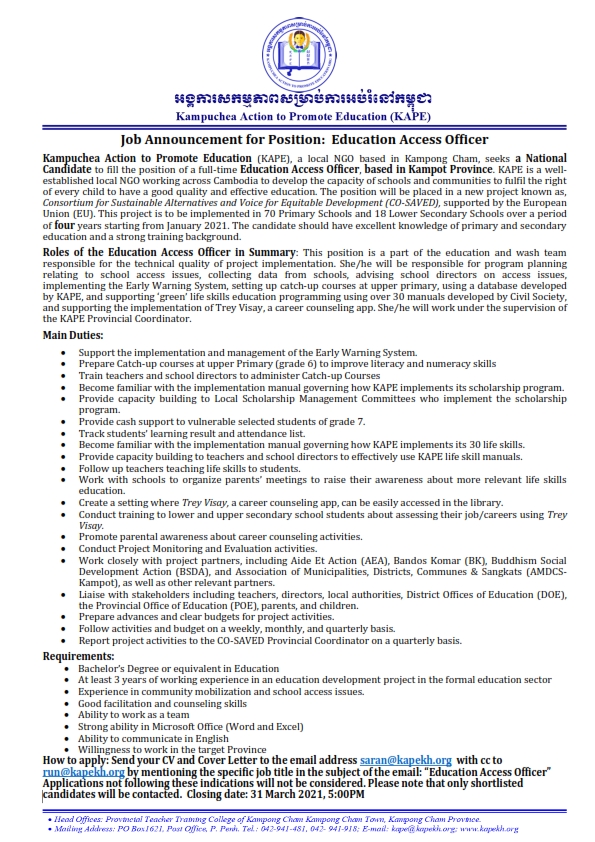 42
Preschool(s)

172
Primary Schools

110
High Schools

7
Higher Education Institutions

120,831
Students

2,806
Teachers/Directors

1,496
Stakeholders