Re-Job Announcement for Position: Junior Trainers (Four persons)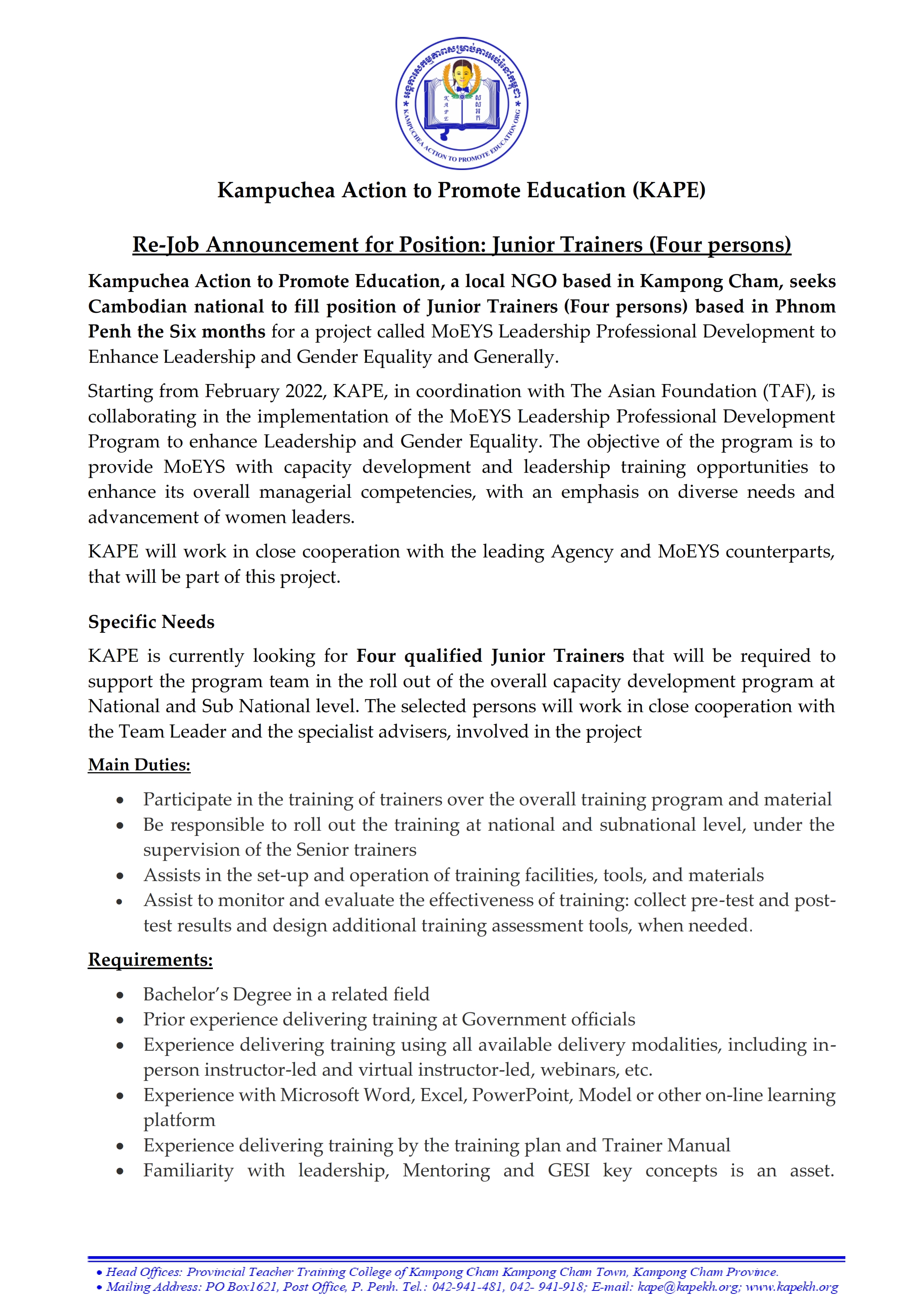 Kampuchea Action to Promote Education, a local NGO based in Kampong Cham, seeks Cambodian national to fill position of Junior Trainers (Four persons) based in Phnom Penh the Six months for a project called MoEYS Leadership Professional Development to Enhance Leadership and Gender Equality and Generally.
Starting from February 2022, KAPE, in coordination with The Asian Foundation (TAF), is collaborating in the implementation of the MoEYS Leadership Professional Development Program to enhance Leadership and Gender Equality. The objective of the program is to provide MoEYS with capacity development and leadership training opportunities to enhance its overall managerial competencies, with an emphasis on diverse needs and advancement of women leaders.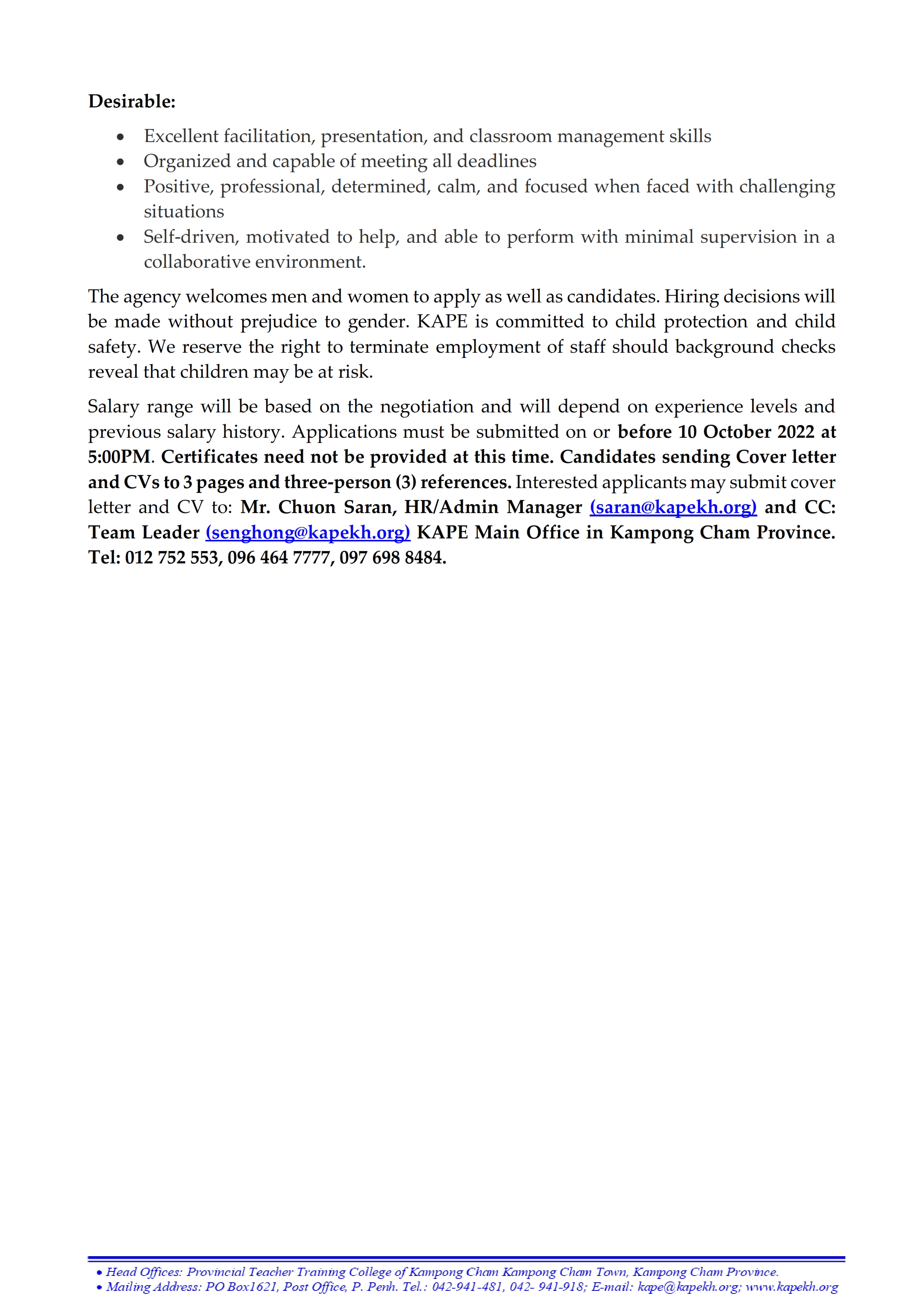 KAPE will work in close cooperation with the leading Agency and MoEYS counterparts, that will be part of this project.
Specific Needs
KAPE is currently looking for Four qualified Junior Trainers that will be required to support the program team in the roll out of the overall capacity development program at National and Sub National level. The selected persons will work in close cooperation with the Team Leader and the specialist advisers, involved in the project.
Main Duties:
Participate in the training of trainers over the overall training program and material
Be responsible to roll out the training at national and subnational level, under the supervision of the Senior trainers
Assists in the set-up and operation of training facilities, tools, and materials
Assist to monitor and evaluate the effectiveness of training: collect pre-test and post-test results and design additional training assessment tools, when needed.
Requirements:
Prior experience delivering training at Government officials
Experience delivering training using all available delivery modalities, including in-person instructor-led and virtual instructor-led, webinars, etc.
Experience with Microsoft Word, Excel, PowerPoint, Model or other on-line learning platform
Experience delivering training by the training plan and Trainer Manual
Familiarity with leadership, Mentoring and GESI key concepts is an asset.
Excellent facilitation, presentation, and classroom management skills
Organized and capable of meeting all deadlines
Positive, professional, determined, calm, and focused when faced with challenging situations
Self-driven, motivated to help, and able to perform with minimal supervision in a collaborative environment.
The agency welcomes men and women to apply as well as candidates. Hiring decisions will be made without prejudice to gender. KAPE is committed to child protection and child safety. We reserve the right to terminate employment of staff should background checks reveal that children may be at risk.
Salary range will be based on the negotiation and will depend on experience levels and previous salary history. Applications must be submitted on or before 10 October 2022 at 5:00PM. Certificates need not be provided at this time. Candidates sending Cover letter and CVs to 3 pages and three-person (3) references. Interested applicants may submit cover letter and CV to: Mr. Chuon Saran, HR/Admin Manager (saran@kapekh.org) and CC: Team Leader (senghong@kapekh.org) KAPE Main Office in Kampong Cham Province. Tel: 012 752 553, 096 464 7777, 097 698 8484.
42
Preschool(s)

172
Primary Schools

110
High Schools

6
Higher Education Institutions

120,831
Students

2,806
Teachers/Directors

1,496
Stakeholders