BECOMING A QUALIFIED MENTOR
Date : 2020-09-29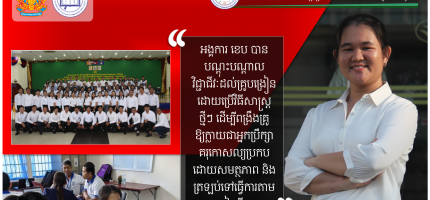 Ms. Im Leang Sim is one of the teachers at Serey Mongkul high school, located in RokaKongII commune, Mouk Kampoul district, Kandal province. She has 5-year teaching experiences. In 2019, she passed the examination and got a scholarship to pursue Master's Degree of Education in Mentoring at New Generation Pedagogical Research Center (NGPRC) of National Institute of Education (NIE).
Problem-solving on teaching challenges: she went to teach based on school regular schedules, introduced students to have self-learning and encouraged students to do the online-researches and reading extra relevance books.
Whilst study at NGPRC: she gained newly practical knowledge including 21st century teaching approaches, using computer to support teaching, research methodology (action, qualitative, and quantitative...), especially the skill of mentoring. Moreover, in learning activity, she preferred cooperative learning, helping each other as well as building good relationships with classmates. The above-mentioned are lessons helping her to develop professional ethics of teaching methods.
She would like the NGPRC to upgrade 1-year intensive program to 2-year program, so the students could have enough time to do research (thesis writing), plan or clarify curriculum rather much adaptation.
This scholarship is one-year program, funded by the Ministry of Education, Youth and Sport and implemented by KAPE.
42
Preschool(s)

172
Primary Schools

110
High Schools

6
Higher Education Institutions

120,831
Students

2,806
Teachers/Directors

1,496
Stakeholders