Participation of girl in School Development
Date : 2014-09-30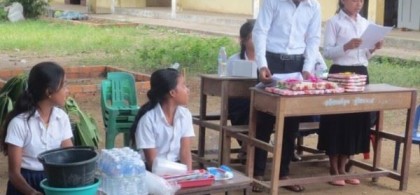 rowded voice of students for attending brushing teeth competition at Sarkeng-Outavao primary school organized by Student council, In the name of MC (Master of Ceremony) for this event, Lin Srey Len-a girl who is 12 years old and is in grade 6A and she is a chief of Student Council of Sarkheng-Outavao primary school which is located in Outavao village, Outavao commune, Pailin district, Pailin province.
For Srey Len, it is the 2nd year for her to be involved in student council, actually for being a chief of student council, she actively participates in developing school and to build her capacity such as enhancing her bravery and being serious with the work and cooperate with members and other students in school. In student council structure, all of them-chief, deputy 1 and 2 are girls because of the confidence and anti-discrimination of executive committee members​ during the Executive Committee election but the girls are more active than the boys for student council works like bravery leading and implementing activities.
After understanding of Child Rights, Child Participation and Gender concept training provided by our staffs which is response to the 4thdimension of Child Friendly School Program-Gender Responsiveness of My School project which it steams from collaboration of CIAI and KAPE implementing in Pailin district, it encourages Srey Len to be proud and lead student council activities actively. She said that "She is so happy for implementing student council and for all activities of our project which makes children enjoy good learning and participation of girls in school development."
42
Preschool(s)

172
Primary Schools

110
High Schools

6
Higher Education Institutions

120,831
Students

2,806
Teachers/Directors

1,496
Stakeholders