67 GRADE 10 STUDENTS RECEIVED SCHOLARSHIPS FROM KAPE-GEI
Date : 2018-11-20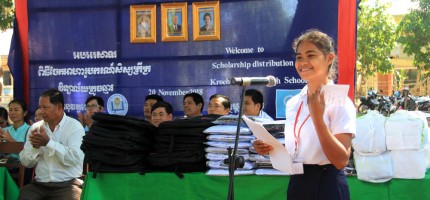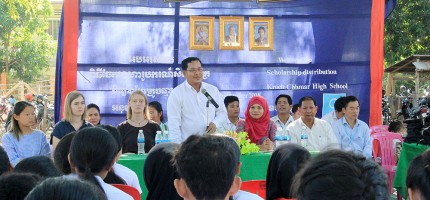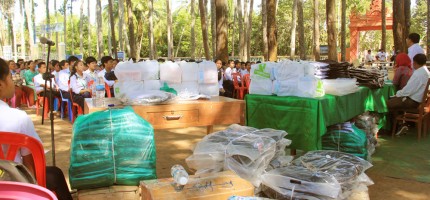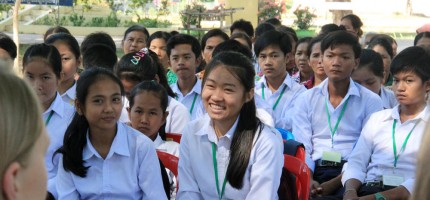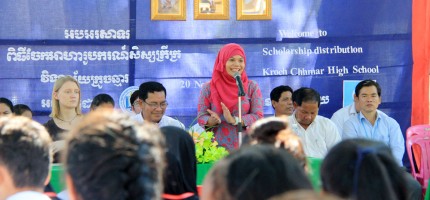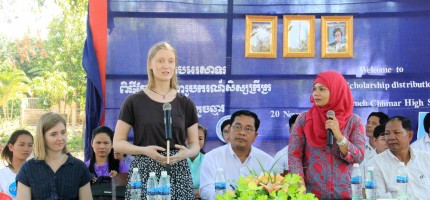 The total of 67 students, who were from Krouch Chmar high school, Peus 2 high school and Ampor Vorn Chinik high school received scholarship materials including shirts, skirts, trousers, Mathematic materials, notebooks, pens, school bags and LSMC bags in the academic year 2018-2019. This program was attended by the parents, teachers, school directors, local communities, school support committee (SSC), representatives from the District Office of Education, Youth and Sport of Krouch Chmar, Provincial Office of Education, Youth and Sport of Tbaung Khmum provincce and donor representatives of the OakTree Foundation from Australia.
Mr. Him Kong, Krouch Chmar's School Director, said that, "I am really happy during this scholarship distribution for the poor students at my high school. And I would like to express my deeply feeling to share my gratitude to KAPE and OakTree Foundation who support teaching and learning aids especially this is to make the students to move on their studies. I, finally, encourage all the students to try studying more."
Regarding to this scholarship distribution, Mr. Nou Phalla Phirath, the Deputy Director of Provincial Office of Education, Youth and Sport of Tbaung Khmum province, addressed that, "I would like to appeal for all parties to join promoting education more. I would thank so much for OakTree Foundation, KAPE, teachers and parents attending this program today."
Miss Hem Mary, Inclusive Educcation Program Coordinator/IEP Coordinator, said that, "Girls' Education Initiative (GEI) is one of KAPE's longest projects. The project has provided opportunities to poor younger girls to continue studying and can earn 400$ at least per month when they get employed after graduation. This project also helps girlst study ICT as well as the boys do. GEI is scheduled to end in December 2019."
ឆ្លើយតបនឹងតម្រូវការសិក្សារបស់សិស្សក្រីក្រ តំណាងអង្គការមូលនិធិអូកទ្រី កញ្ញា អេឌី ហ្វាហ៊ី បានលើកមតិថា " ខ្ញុំបានជួបសិស្សជាច្រើនមានការសប្បាយចិត្តខ្លាំង និងក៏រីករាយដែលខ្ញុំបានធ្វើការជាមួយអង្គការ ខេប។ បន្ទាប់ពីខ្ញុំបានជួបអតីតសិស្សអាហារូបករណ៍អង្គការ ខេប ដែលបានចេញបម្រើការងារមក បានលើកទឹកចិត្តខ្ញុំដ៏រំភើបដើម្បីនឹងអាចចែករំលែកនូវប្រាក់ចំណូលរបស់ខ្ញុំមួយចំនួនជួយដល់សិស្សក្រីក្របន្តការសិក្សាទៀតបាន បើសិនពួកគេត្រូវការ "។
សិស្សទាំង៣១រូបព្រមទាំងឪពុកម្តាយរបស់ពួកគាត់មានសេចក្តីរំភើបរីករាយដោយបានទទួលអាហាររូបករណ៍គាំទ្រដល់ការសិក្សារបស់ខ្លួន។ យុវតីឈ្មោះស្រីនិចជាសិស្សថ្នាក់ទី ១០ បាននិយាយថា "នាងខ្ញុំជាសិស្សអាហារូបករណ៍អង្គការ ខេប ពិតជាមានសេចក្តីសប្បាយរីករាយយ៉ាងខ្លាំង ក្នុងកម្មវិធីចែកអារូបករណ៍ដល់សិស្សក្រីក្រនៅថ្ងៃនេះ។ ខ្ញុំបានទទួលអាហារូបករណ៍ពីអង្គការ ខេប រយៈពេល៤ឆ្នាំចាប់ពីឆ្នាំ២០១៥​ ដល់២០១៩ ដោយទទួលបានដូចជា៖ កង់ មក់ សម្ភារសិក្សា សម្លៀកបំពាក់ និងថវិកាប្រចាំខែ​ និងកម្មវិធីបំណិនជីវិតយកទៅអនុវត្តនៅផ្ទះ។ ម្យ៉ាងទៀត ខ្ញុំបានទទួលការបណ្តុះបណ្តាលផ្នែកប្រឹក្សាអាជីព ភាពជាអ្នកដឹកនាំ ការដោះស្រាយបញ្ហា ចក្ខុវិស័យ ការកំណត់ទិសដៅទៅអនាគតធ្វើជាអ្នកធុរកិច្ច ការនាម័យខ្លួនប្រាណ។ ខ្ញុំក៏បានប្រែប្រួលជីវិតខ្ញុំដែរ ដូចជា៖ ក្កាហាន ហ៊ានបញ្ចេញមតិយោបល់នៅចំពោះមុខលោកគ្រូអ្នកគ្រូ ការចេះចាយវាយលើសម្ភារសិក្សា និងសម្លៀកបំពាក់ ហើយក៏បានធ្វើឱ្យធូរស្រាលដល់ជីវភាពគ្រួសារបានមួយកម្រិតលើការសិក្សា ហើយសិស្សអាហារូបករណ៍ក៏ប្រែប្រួលដែរ។ ប្រសិនបើគ្មានអារូបករណ៍អង្គការ ខេប ទេ ខ្ញុំប្រហែលជាបោះបង់ការសិក្សាយូរមកហើយ "។
តំណាងឪពុកម្តាយបានសម្តែងសេចក្តីថ្លែងអំណរគុណចំពោះអង្គការ ខេប និងអង្គការមូលនិធិអូកទ្រីដែលបានជួយផ្តល់អាហារូបករណ៍ដល់កូនៗរបស់ពួកគាត់បានបន្តការសិក្សា។ សិស្សអាហារូបករណ៍ទាំង៣១នាក់បានច្រៀងចម្រៀងជូនដល់កម្មវិធីទាំងមូលស្តាប់កំសាន្តផងដែរ។
ជាសរុប កម្មវិធីនេះពិតជាបង្កនូវភាពរីករាយដល់អ្នកចូលរួមទាំងអស់គ្នា ដែលជំរុញឱ្យប្អូនៗជាសិស្សដែលទទួលបានអារូបករណ៍ថ្ងៃនេះខិតខំប្រឹងប្រែងរៀនសូត្រឱ្យពូកែ មិនឱ្យលោកគ្រូអ្នកគ្រូ លោកនាយក និងឪពុកម្តាយខកបំណងឡើយ៕
Link to other Website
International NGOs
Local NGOs
Media
Ministries of Royal Government of Cambodia
Other links
42
Preschool(s)

172
Primary Schools

110
High Schools

6
Higher Education Institutions

120,831
Students

2,806
Teachers/Directors

1,496
Stakeholders