DONOR VISIT AT SVAY PROHUOT NGS IN SVAY RIENG
Date : 2017-05-08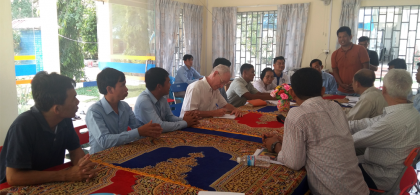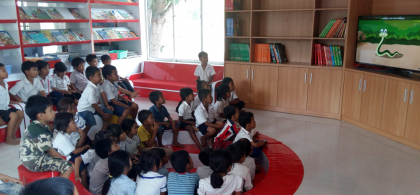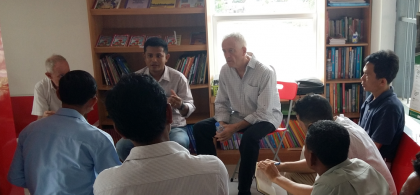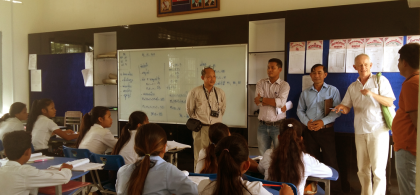 On 8th May 2017, KAPE hosted a donor visit at New Generation School (NGS) in Svay Rieng province where is approximately 150km from Phnom Penh. NGS was approved to implement in public schools by the Ministry of Education, Youth and Sport (MoEYS) after the successful results of the Beacon School Initiative (BSI) and Improved Basic Education in Cambodia (IBEC) project. The NGS has been extended to Svay Prahout and Kok Pring schools in Kok Pring Commune, Svay Chrum district, Svay Rieng Province since January 2016 and supported by ChildFund Cambodia.
Richart and Andrew, the donor representatives, came to visit Svay Prohuot NGS implementation in order to learn the experiences of how KAPE has effectively been implementing the project. Regarding to the visit, they would delegate a group of teachers from Myanmar to conduct a study visit at Svay Prohuot int the coming future. This also gave Svay Prohuot a surprising event because there would be oversee public teachers coming to learn experiences from the project.
KAPE has been working so hard to develop Svay Prohuot NGS because it was the provincial secondary school. In the past, there were many challenges including school environment, teaching characterisitcs, management system, ...ect. However, Svay Prohuot changes much better since NGS has started. The project provided up-to-date learning and teaching aids, science lab, library,computer lab, capacity training courses for teachers, directors, stakeholders and communities to Svay Prohuot NGS. This visit made Svay Prohuot NGS work much better to help improve the education quality in Cambodia.
Link to other Website
International NGOs
Local NGOs
Media
Ministries of Royal Government of Cambodia
Other links
146
Primary Schools

19
High Schools

71000
Students

1650
Teachers/Directors

142000
Stakeholders