SCHOLARSHIP IS THE REINFORCING PROGRAM FOR PROVIDING OPPORTUNITIES IN OBTAINING EDUCATION TO POOR STUDENTS
Date : 2019-05-14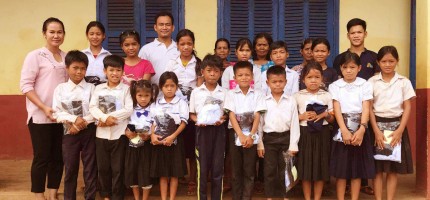 Since the project was started to implement, the poor students in the 24 target schools received scholarship materials two times per year. The first phase was happened at the beginning new academic year and the second phase was provided them in May after their small vacation in April.
From January to May 2019, the United Schools of Cambodia (USC) project has provided scholarship materials including: 2 sets of school uniforms, 1 bag, a pair of shoes, 6 notebooks, 2 pens, 1 ruler, a box of coloured candled markers and 2 pencils to facilitate a total of 240 students (117 girls) in 13 schools in Kompong Cham province, 7 schools in Siem Reap and 4 schools in Ouya Dao district, Ratanakiri province in aiming to encourage them to study hard without school-dropout happened. All 24 target school students have been happy with scholarship materials and paying their attentions to effectively use them at all.
The teachers, school principals and parents supported project activities and committed to reinforce their children to go to school regularly. These scholarship materials are really effective mechanisms have been initiated to happen by the project to mobilize students, parents and all the stakeholders to take part in developing quality of education for Cambodian children.
Link to other Website
International NGOs
Local NGOs
Media
Ministries of Royal Government of Cambodia
Other links
42
Preschool(s)

172
Primary Schools

110
High Schools

6
Higher Education Institutions

120,831
Students

2,806
Teachers/Directors

1,496
Stakeholders