KAPE is in need of an ECCD Consultant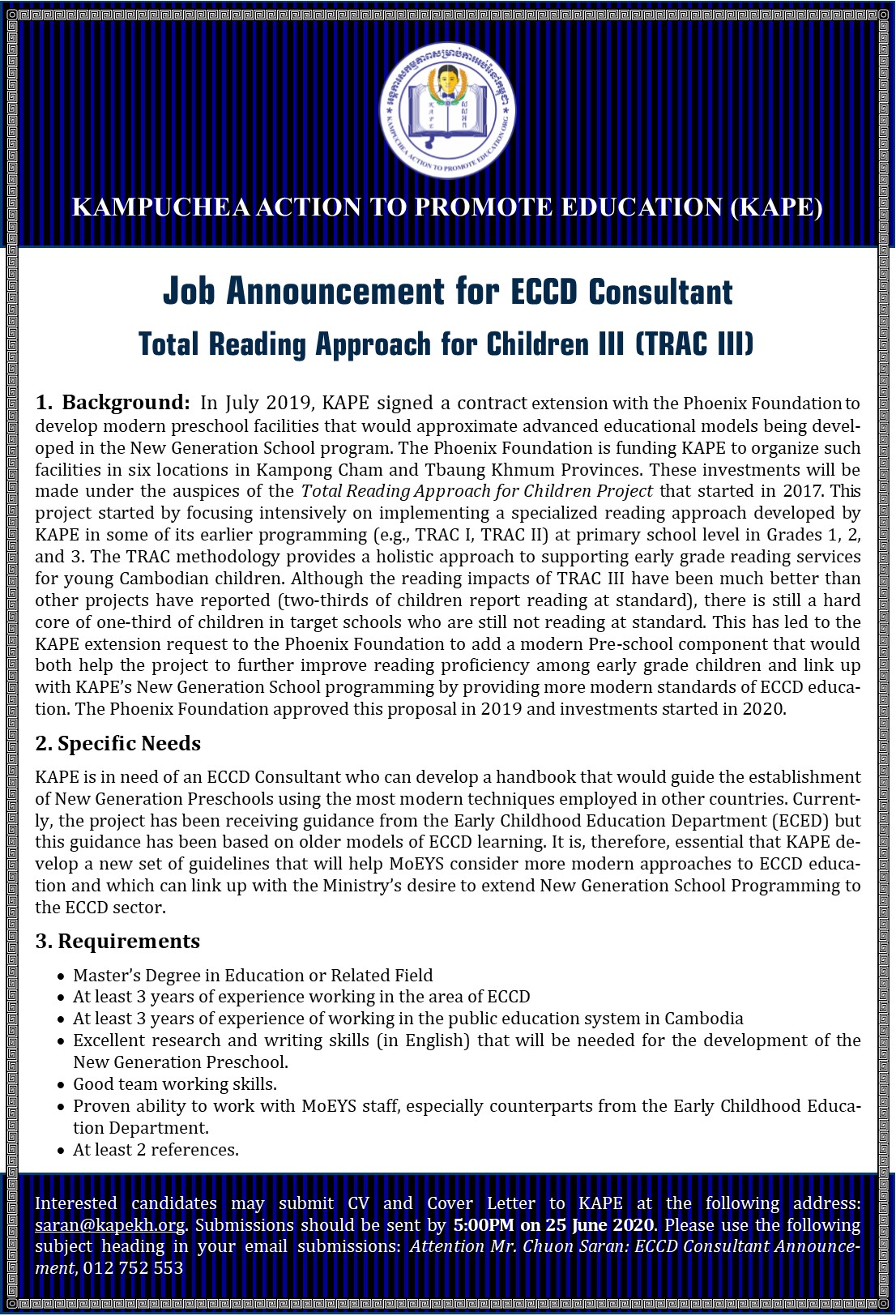 Total Reading Approach for Children III (TRAC III)
1. Background: In July 2019, KAPE signed a contract extension with the Phoenix Foundation to develop modern preschool facilities that would approximate advanced educational models being developed in the New Generation School program. The Phoenix Foundation is funding KAPE to organize such facilities in six locations in Kampong Cham and Tbaung Khmum Provinces. These investments will be made under the auspices of the Total Reading Approach for Children Project that started in 2017. This project started by focusing intensively on implementing a specialized reading approach developed by KAPE in some of its earlier programming (e.g., TRAC I, TRAC II) at primary school level in Grades 1, 2, and 3. The TRAC methodology provides a holistic approach to supporting early grade reading services for young Cambodian children. Although the reading impacts of TRAC III have been much better than other projects have reported (two-thirds of children report reading at standard), there is still a hard core of one-third of children in target schools who are still not reading at standard. This has led to the KAPE extension request to the Phoenix Foundation to add a modern Pre-school component that would both help the project to further improve reading proficiency among early grade children and link up with KAPE's New Generation School programming by providing more modern standards of ECCD education. The Phoenix Foundation approved this proposal in 2019 and investments started in 2020.
2. Specific Needs
KAPE is in need of an ECCD Consultant who can develop a handbook that would guide the establishment of New Generation Preschools using the most modern techniques employed in other countries. Currently, the project has been receiving guidance from the Early Childhood Education Department (ECED) but this guidance has been based on older models of ECCD learning. It is, therefore, essential that KAPE develop a new set of guidelines that will help MoEYS consider more modern approaches to ECCD education and which can link up with the Ministry's desire to extend New Generation School Programming to the ECCD sector.
3. Requirements
Master's Degree in Education or Related Field
At least 3 years of experience working in the area of ECCD
At least 3 years of experience of working in the public education system in Cambodia
Excellent research and writing skills (in English) that will be needed for the development of the New Generation Preschool.
Good team working skills.
Proven ability to work with MoEYS staff, especially counterparts from the Early Childhood Education Department.
At least 2 references.
Interested candidates may submit CV and Cover Letter to KAPE at the following address: saran@kapekh.org. Submissions should be sent by 5:00PM on 25 June 2020. Please use the following subject heading in your email submissions: Attention Mr. Chuon Saran: ECCD Consultant Announcement, 012 752 553.
42
Preschool(s)

172
Primary Schools

110
High Schools

7
Higher Education Institutions

120,831
Students

2,806
Teachers/Directors

1,496
Stakeholders