Job Announcement Position: Intern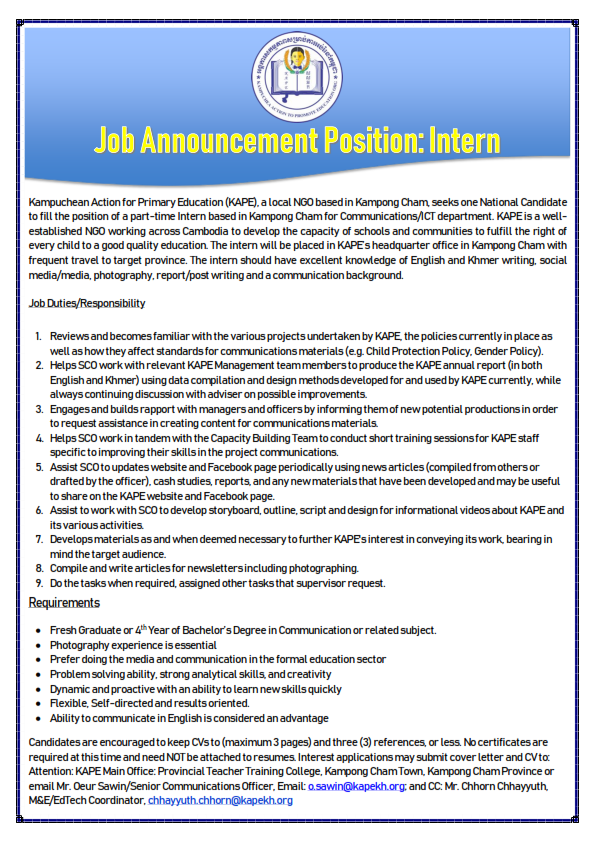 Kampuchean Action for Primary Education (KAPE), a local NGO based in Kampong Cham, seeks one National Candidate to fill the position of a part-time Intern based in Kampong Cham for Communications/ICT department. KAPE is a well-established NGO working across Cambodia to develop the capacity of schools and communities to fulfill the right of every child to a good quality education. The intern will be placed in KAPE's headquarter office in Kampong Cham with frequent travel to target province. The intern should have excellent knowledge of English and Khmer writing, social media/media, photography, report/post writing and a communication background.
Job Duties/Responsibility
Reviews and becomes familiar with the various projects undertaken by KAPE, the policies currently in place as well as how they affect standards for communications materials (e.g. Child Protection Policy, Gender Policy).
Helps SCO work with relevant KAPE Management team members to produce the KAPE annual report (in both English and Khmer) using data compilation and design methods developed for and used by KAPE currently, while always continuing discussion with adviser on possible improvements.
Engages and builds rapport with managers and officers by informing them of new potential productions in order to request assistance in creating content for communications materials.
Helps SCO work in tandem with the Capacity Building Team to conduct short training sessions for KAPE staff specific to improving their skills in the project communications.
Assist SCO to updates website and Facebook page periodically using news articles (compiled from others or drafted by the officer), cash studies, reports, and any new materials that have been developed and may be useful to share on the KAPE website and Facebook page.
Assist to work with SCO to develop storyboard, outline, script and design for informational videos about KAPE and its various activities.
Develops materials as and when deemed necessary to further KAPE's interest in conveying its work, bearing in mind the target audience.
Compile and write articles for newsletters including photographing.
Do the tasks when required, assigned other tasks that supervisor request.
Requirements
Fresh Graduate or 4th Year of Bachelor's Degree in Communication or related subject.
Photography experience is essential
Prefer doing the media and communication in the formal education sector
Problem solving ability, strong analytical skills, and creativity
Dynamic and proactive with an ability to learn new skills quickly
Flexible, Self-directed and results oriented.
Ability to communicate in English is considered an advantage
Candidates are encouraged to keep CVs to (maximum 3 pages) and three (3) references, or less. No certificates are required at this time and need NOT be attached to resumes. Interest applications may submit cover letter and CV to: Attention: KAPE Main Office: Provincial Teacher Training College, Kampong Cham Town, Kampong Cham Province or email Mr. Oeur Sawin/Senior Communications Officer, Email: o.sawin@kapekh.org; and CC: Mr. Chhorn Chhayyuth, M&E/EdTech Coordinator, chhayyuth.chhorn@kapekh.org
42
Preschool(s)

172
Primary Schools

110
High Schools

7
Higher Education Institutions

120,831
Students

2,806
Teachers/Directors

1,496
Stakeholders