Core Teacher Training on Library Management
Date : 2020-07-28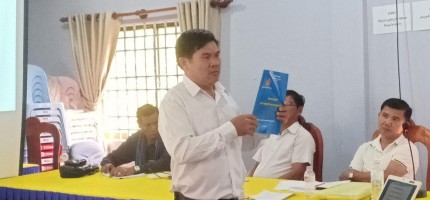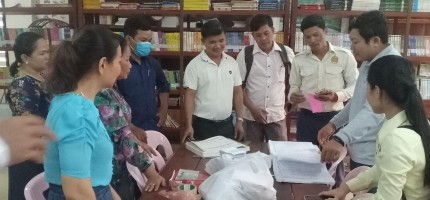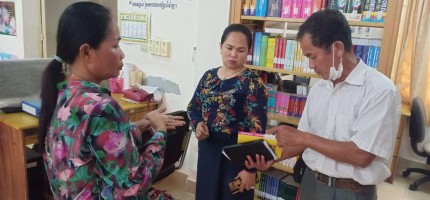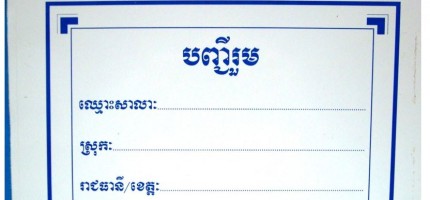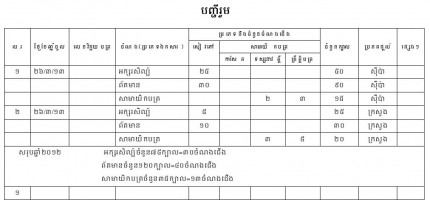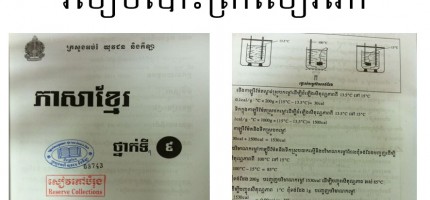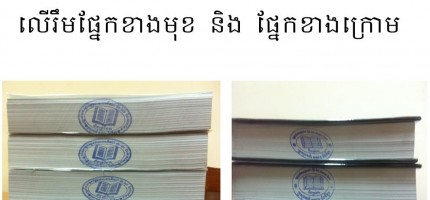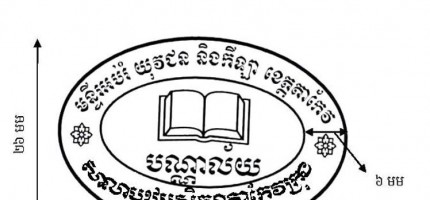 Core Teacher Training on "Library Management" on 27-28 July 2020 at the Provincial Office of Education, Youth and Sport in Khemrak Phoumin city, Koh Kong province.​ The 20 participants are the project staff, library manager of secondary education of the department of curriculum development, office staff of education of the Ministry of Education, Youth and Sport, deputy directors of public schools and libraries from Preah Sihanoukville and Koh Kong provinces.
How many types of a "library"?
According to the presentation made by the Department of Curriculum Development, there are four types of libraries: 1) The school library in the school which serves the teaching and learning of teachers and students. 2) The Higher Education Library locates in the Higher Education Institutes which serves the teaching and research needs of professors and students. 3) Public Library is one that consists of resources and provides services to users of all ages and all walks of life. And 4) Specialized libraries generally serve the mission of the institution of the library, specialized libraries include libraries of various ministries, National Assembly libraries, Senate libraries.
The library has been developed into antique, automated and electronic libraries. Creating a library involves status and location, supporting library work, finding resources for the library, selecting librarians, organizing and decorating libraries, resources, materials and documents. The library is a room building and located in the library office, in a classroom and mobile libraries.
The work of the library must be supported by educational institutions, relevant partners, local authorities, communities, philanthropists, teachers, students and must seek resources through subscriptions, requests and exchanges. Librarians are required to recruit​ from the state teachers who are local and healthy under 55 years old, have good communication skills, diligent, patient, friendly, creative, skillful in work, love library work.
The five rules of library science include: (1) books for users, (2) books for all readers, (3) books that meet the needs of readers, (4) saving readers' time and (5) expanding library capacity. There are two types of reading books in the library: literary books (story books or fiction books) and documentaries (booklets or fact books). The book consists of "white" home page/end page, title page, copyrights@ page, Content Page, preface page, or introduction page, glossary page and dedicated page.
The main pages for book coding libraries include: title page, copyrights@ page, content page, preface/introduction page and end page, registration code coding page (Deve).
Ways to attract students to the library include: aesthetics and rich documentation, encouragement from teachers and school leaders, setting up competition programs and building friendships with the readers.
The library management must be determined the roles and responsibilities of the librarians to increase the funding of documents, dissemination, build external and internal cooperation and to carry out the library work.
This training is significantly focused on methods to effectively manage libraries including using book codes and reinforcing education access for students to read books in the library. This training was really providing good lessons of experiences for librarians, directors/deputy directors to use to manage their libraries especially it could reinforce students to read more books in the libraries.
This training is hosted by the Ministry of Education, Youth and Sport (MoEYS), The Asia Foundation (TAF) and Kampuchea Action to Promote Education (KAPE).
#BFC #BooksforCambodia #KAPEprojects
Link to other Website
International NGOs
Local NGOs
Media
Ministries of Royal Government of Cambodia
Other links
42
Preschool(s)

172
Primary Schools

110
High Schools

6
Higher Education Institutions

120,831
Students

2,806
Teachers/Directors

1,496
Stakeholders