KAMPONG CHAM NGS HOSTED A FIELD VISIT FROM MOEYS AND DEVELOPMENT PARTNERS
Date : 2017-06-28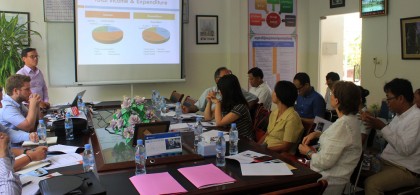 The New Generation Schools (NGS)/The Demonstration School in Kampong Cham hosted a field visit of the delegations who were from the Ministry of Education, Youth and Sport, French Embassy, ​​GIZ, World Food Program (WFP), JICA and UNESCO on June 28, 2017. The purpose of the visit was to learn about the demonstration school infrastructure, school staff and students, especially performance, student learning, management and community involvement, budget planning, financial management and effective ways to handle challenges.
The demonstration school is a new kind of public school in Cambodia. Building on a foundation of strong governance, the school has sought to pioneer new ways of educationg Cambodian children that makes them read for the 21st century. Tis includes intensive use of technology in the teaching-learning proocess, hands-on science learning, and instruction modulated to the needs of individual children. These innovations are only possibe through new policies formulated by MoEYS that allows schools the automony to experiment.
This field visit was very fruitful for providing much information to the visitors to learn about the NGS best practices. They would take these good experiences and lessons learned to develop their cusfrriculum. KAPE was proud of its successful achievements to share to its development partners and all stakeholders in order to improve the educational sector in Cambodia.
Link to other Website
International NGOs
Local NGOs
Media
Ministries of Royal Government of Cambodia
Other links
146
Primary Schools

19
High Schools

71000
Students

1650
Teachers/Directors

142000
Stakeholders