JOB OPPORTUNITY FORUM FOR KAPE'S CTSP SCHOLARS
Date : 2019-07-18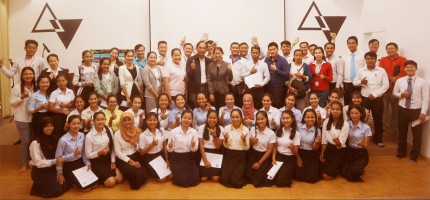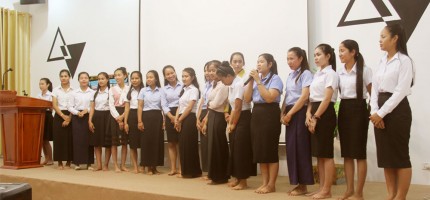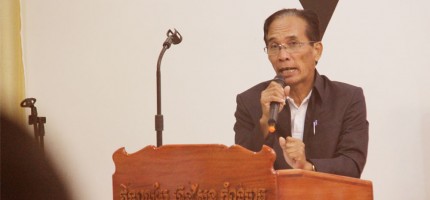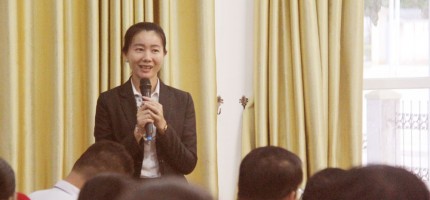 Cambodian Tertiary Scholarship Program (CTSP) hosted its job opportunity forum for its scholars that was attended by 30 representatives from companies, banks, schools and non-governmental organizations in Kampong Cham province. Those came to present about their job requirements and duties and learn experiences and qualifications of KAPE's CTSP Scholars in the evening on 18 July 2019 in Kampong Cham town. The CTSP scholars attended to do the presentation about their personal backgrounds, studies, voluntary work and skills that they committed to pursue learning and earning for living a better life and will be also serving their country. During this forum, all representatives presented about their terms of references, responsibilities and required conditions to CTSP scholars as the basis for strengthening their studies meeting the needs of the labor markets.
KAPE has closely worked with the Ministry of Education, Youth and Sport to create charter schools in the formal education system that has provided higher quality of education for Cambodian youths especially the STEM subjects since 2015 implemented by KAPE. These new charter schools are recently known as the New Generation Schools (NGS) and significant features of the Ministry of Education, Youth and Sport's National Education Reforms. The Minister of Education has paid particular attention to this NGS as a way to promote good governance and reform in public schools. As the result from project implementations, KAPE has consisted of more than 70,000 direct beneficiaries as the children and youth under 18 projects in 14 provinces.
The Cambodian Tertiary Scholarship Program or called "CTSP" aims to help address the issues of gender inequality, the scholarship program supported by the Asia Foundation (TAF) donated by the Merali and Lotus Circle. CTSP provides young and committed young girls, who are from low-income families, to receive opportunities to get 4-year program education and be employed after graduation.
The 116 former scholars, who graduated bachelor degrees from university in Kampong Cham, have been employed in companies, banks, NGOs and governmental institutions in the Kingdom of Cambodia.
With the same donors, 30 young girls were selected to provide 4-year program education at Western University in Kampong Cham province in the academic year 2016-2020. Recently, they are the third-year students of Accounting, Bank and Finance, Public Administration, English Literature and Management. In addition, they have received many training courses such as Computer, English, Soft Skills and Leaderships. On the other hand, they have also involved in socially synergistic work for their future careers of quality and value.
The forum aimed to showcase the CTSP project implementation to stakeholders, build networks and good relationships with banks, companies and NGOs, especially to provide opportunities for CTSP scholars to understand the labor markets and their full-time job opportunities. This has not been affecting their studies. The scholars were also encouraged to learn new things from leaders in different institutions.
The forum was supported by Asia Foundation and implemented by Kampuchea Action to Promote Education.
Link to other Website
International NGOs
Local NGOs
Media
Ministries of Royal Government of Cambodia
Other links
42
Preschool(s)

172
Primary Schools

110
High Schools

7
Higher Education Institutions

120,831
Students

2,806
Teachers/Directors

1,496
Stakeholders