KAPE's senior management team hosted a warming meeting with H.E. Sisovath Duong Chanto
Date : 2021-02-25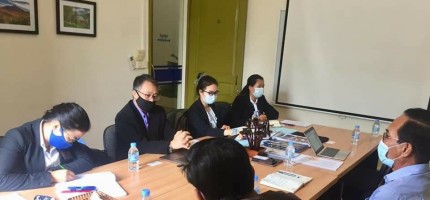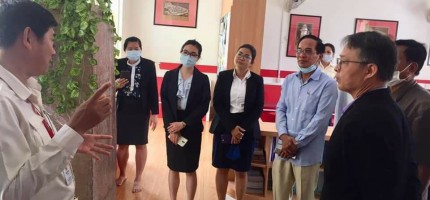 In late February 2021, KAPE's senior management team hosted a warming meeting with H.E. Sisovath Duong Chanto, the General Secretariat of the National Committee for Economic Productivity of Cambodia of Ministry of Economy and Finance at the New Generation School (NGS) - Preah Sisovath high school in order to learn the experiences, activities, strategies, and vision to enhance human resource training to drive economic growth. The meeting detailed main points as follows:
NGS's core principles and regulation frameworks.
Development and build human resources to recover national economic
Teaching and learning in the 21st century.
Improving teaching standards based on new methodologies for teaching and learning with quality.
Teacher capacity building in educational technology STEM method, teacher career path paralleled with the educational strategic plan.
Constructing a pedagogical research center and mentor training to assist teachers at New Generational Schools.
Continuing partnership between the government, the Ministry and KAPE in the future.
The results of this meeting reflected many good achievements implemented by KAPE which has been led to the quality recognition from the Ministry of Education, Youth and Sports; particularly, there have been support from parents, guardians and all stakeholders. H.E. Sisowath Duong Chanto gave his impressions of satisfaction with the results of the New Generation School Initiative and would strengthen a strongly continuous partnership with KAPE to develop the educational sector in Cambodia.
Link to other Website
International NGOs
Local NGOs
Media
Ministries of Royal Government of Cambodia
Other links
42
Preschool(s)

172
Primary Schools

110
High Schools

7
Higher Education Institutions

120,831
Students

2,806
Teachers/Directors

1,496
Stakeholders