TREY VISAY APP HELPS TEACHERS TEACH AND LEAD STUDENTS TO CREATE LIFE GOALS EFFECTIVELY
Date : 2023-07-11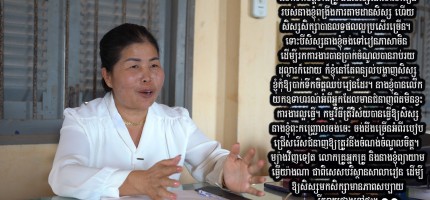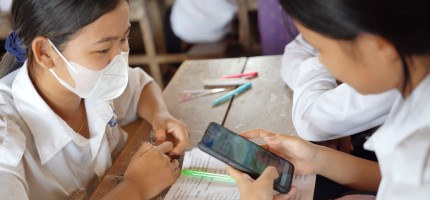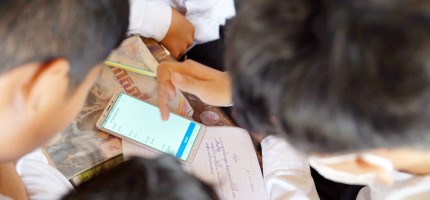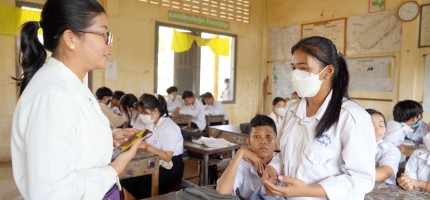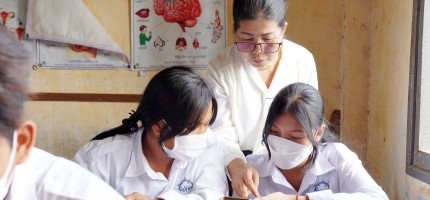 Mrs. Kao Sok is the deputy director and in charge of teaching the CO-SAVED's Trey Visay App at Phnom Lork lower secondary school which is one of the target schools located in a rural area. It is more than 38 km from the Provincial Office of Education, Youth and Sports of Kampot. Mrs. Sok is very happy to see her students changing their attitudes, knowing how to plan and set goals for their studies. She feels less concerned about students' study than in the past, especially her school management and student leadership. Phnom Lork lower secondary school now consists of more than 300 students who are children from the coastal fishermen families.
Before the CO-SAVED project came in her school, Mrs. Sok was very worried about her students because they did not regularly came to study, did not understand how to plan and set their study goals, not understand how to find out a good university to continue pursuing a career, choose a major, and some students had possibilities but they did not know how to set their future. On the other hand, a small number of students who did not have cell phones and did not also understand this matter, also had a lot of difficulties and discouragements, and were monitored their studies very accurately. Most of the parents were fishermen and lived in the coastal areas, without much time to monitor their children's studies and no easy any apps to give them their children's education information. Her students faced a lot of dropouts because they were motivated to go working in China to easily get high-paying jobs. The students at Phnom Lork lower secondary school did not try rushing to find out more knowledge related to real life but they left abundant absence from the school. They missed coming to school because they went help fish in the sea with their parents.
After the KAPE's CO-SAVED project intervention by installing the Trey Visay app at Phnom Lork lower secondary school for students to study, there have been more than 80% of her students, of course, know what they need to study? What to do? What to choose for their future? The Trey Visay application is comprehensive. Particularly, the students have made a lot of changes through studying the Trey Visay app. They have been curious about the many skills and vocational training schools to choose skills after they graduate secondary school. Moreover, they can especially find precise and quick information sources. Mrs. Sok has now got great new ways to monitor student studies and class attendance. Mrs. Sok has taught her students by using this app on smartphones very effectively. However, Sok recently has not forgotten to concern for her students who have been much motivated to go to China.
"The presence of CO-SAVED project at my school has encouraged both teachers and students to strengthen student monitoring to ensure better results. Even though my students want to go working in China to earn more thousand dollars, I still motivate them not to be discouraged by dropping out of school. During teaching time, I raise some examples of people who have real skills and do not feel fearful of being jobless. The Trey Visay app has made my students very curious about how to choose skills to suit their preferences. Meanwhile, teachers and I particularly try to do something to improve the school environment to attract the students to come to school is happier than staying home," said Mrs. Sok seating in her school office.
When many students are absent, her colleagues and she go to directly visit students' homes by contacting local authorities and parents in person to get feedback and learning real problems. In addition, instead of Trey Visay app, there is also another system called Early Warning System, a prevention system to ban students dropping out. It is helping teachers strengthen their capacity through training and meetings with project technicians. The project also provides scholarship packages to poor students as an activity to alleviate the burden of school management. What makes Mrs. Sok change the school management, teaching and leading student is the activity of meeting directors and teachers from different schools to exchange experiences and solutions during the training.
"I see that Mrs. Keo Sok now knows how to lead students better than in the past even though she supplementarily has to be in charge of teaching Trey Visay app. She has received training courses from the project which improves her job performance. My students have mostly studied Trey Visay app which has enabled them to set their goals via smartphones," said Mr. Sok Ty, Director of Phnom Lork lower secondary school.
The CO-SAVED project is implemented by KAPE in collaboration with AeA under EU funding. COSAVED provides training for teachers, school directors, librarians, parent meetings, school management committee, early warning system, scholarship materials, school building, toilet and library renovations, providing technical and financial support to community preschools, and improving access to education for fishermen children by doing key activities to increase enrollment and improve the quality of education of primary and secondary children in the project area. This is also increasing enrollment and improving the quality of education for students at secondary schools. The Trey Visay app has helped a lot of students at Phnom Lork lower secondary school to work hard to achieve better results. This is particular to provide teachers with a way to observe students and investigate student attendance.
42
Preschool(s)

172
Primary Schools

110
High Schools

6
Higher Education Institutions

120,831
Students

2,806
Teachers/Directors

1,496
Stakeholders