WHY MUST THE TEACHER BE AWARE OF DIGITAL?
Date : 2023-06-16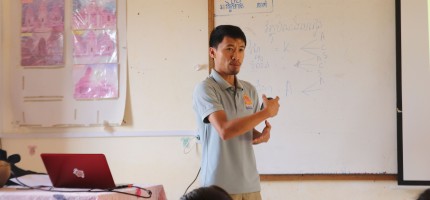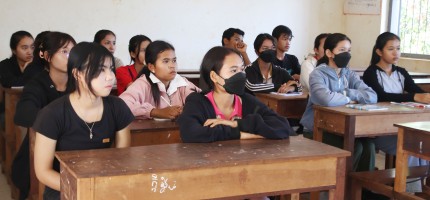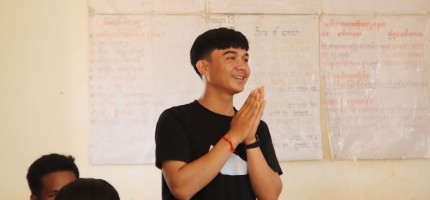 Mr. Thy Dalin, who is one of the Master Trainers of ASEAN Digital Literacy Programme, is the English teacher of Borkeo upper secondary school in Ratanakiri province. He has participated in the ASEAN Digital Literacy programme since December 202​2 because he wants to strengthen his knowledge related to the proper use of new technologies. Nowadays, the people live in the digital era, and can easily surf all kinds of news sources on Online platforms very quickly by using Smart phone, Smart Watch, iPad, Tablet, Computer, and other devices. In this digital era with multimedia, there are some anonymities or hackers who are looking for tactics to fake​ and cheat people if they click any unknown links or make conversations with people whom they never know. Herein, they could become vulnerable and risked through social media platforms.
Before participating the Digital Literacy Programme, Mr. Dalin did not know digital literacy much and could not even share knowledge to his students because his knowledge was limited as well as he could not define the fact and fake news due to he used to be cheated by news. Once upon a time, he shared the news but then is was found out that it was fake news. Most of his students did not understand how to share Online news. They liked to share news and follow their friends without consideration for the future. Mr. Dalin really felt concerned of his students who could suddenly fall in vulnerable group or anonymities if they were not aware of using those social media platforms.
After receiving the master training on media literacy and misinformation, all master trainers would continue to disseminate information to their respective communities. Mr. Dalin gained ​ practical knowledge related to digital literacy such as lateral reading, the power of information, the age of disinformation, Online safety, privacy basics, and cyber security, digital background, digital footprint, digital identity, media balance and well-being. Additionally, he has understood how to define fact news. It refers to the news that is released from specific agencies with proper sources such as the news is posted by the Ministry page, news agencies (CTN, Hang Meas). The information is true which is suitably published to the public. For the fake news is the information lacking real source and published with bad intentions to make troubles in society.
Nowadays, there is much information spreading on social media, if youth do not know how to identify the fact and fake source, they are easy to fall in all those Online forums. Thus, it is important to be careful in sharing information with people around you.
Among major topics, Mr. Dalin selected two topics to share with students. The first is the age of disinformation and the digital footprint. In his view, he sees that his upper secondary school students are teenagers, and the main human resources requiring to know digital because it is very important for their studies and daily living to get online information. Therefore, he strongly believes that his students will use this knowledge responsibly and continue to share it to families, friends, and neighbors in order to make strong consciousness to be avoided from any attempts of the hackers.
The ASEAN Digital Literacy Programme plays an important role in contributing to the development of technological knowledge resources into society, especially the youth themselves have to know how to protect their privacy safely. "Although the digital literacy programme is implemented for a short time, I still commit to keep sharing knowledge to my students in order to let them know ways to avoid before sharing news on social media. I really want the programme to continue its activities to help communities, especially remote areas to gain news," said Mr. Dalin.
Under the financial support from the ASEAN Foundation and implemented by KAPE, Digital Literacy Programme implemented by KAPE with financial support from ASEAN Foundation. The programme recruits 85 Master Trainers to provide Training of Trainers workshops on Misinformation and Media literacy to underserved communities, teachers, educators, community leaders, government officials, and the elder. Out of the programme, KAPE consists of other different projects and programs at target schools throughout the country to improve children and youth education very prosperously.
42
Preschool(s)

172
Primary Schools

110
High Schools

6
Higher Education Institutions

120,831
Students

2,806
Teachers/Directors

1,496
Stakeholders