Consultant for Website Development and Domain Registration for NGPRC Project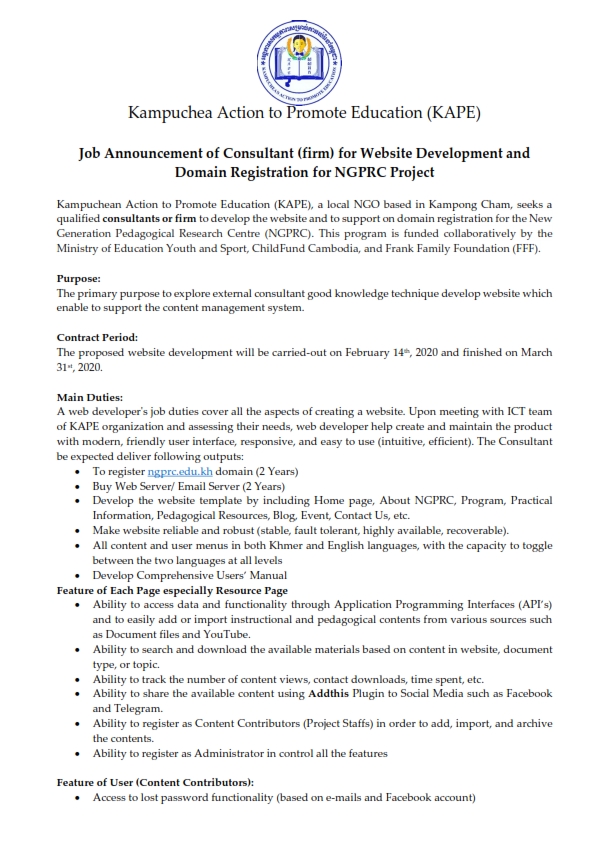 Kampuchean Action to Promote Education (KAPE), a local NGO based in Kampong Cham, seeks a qualified consultants or firm to develop the website and to support on domain registration for the New Generation Pedagogical Research Centre (NGPRC). This program is funded collaboratively by the Ministry of Education Youth and Sport, ChildFund Cambodia, and Frank Family Foundation (FFF).
Purpose:
The primary purpose to explore external consultant good knowledge technique develop website which enable to support the content management system.
Contract Period:
The proposed website development will be carried-out on February 14th, 2020 and finished on March 31st, 2020.
Main Duties:
A web developer's job duties cover all the aspects of creating a website. Upon meeting with ICT team of KAPE organization and assessing their needs, web developer help create and maintain the product with modern, friendly user interface, responsive, and easy to use (intuitive, efficient). The Consultant be expected deliver following outputs:
To register ngprc.edu.kh domain (2 Years)
Buy Web Server/ Email Server (2 Years)
Develop the website template by including Home page, About NGPRC, Program, Practical Information, Pedagogical Resources, Blog, Event, Contact Us, etc.
Make website reliable and robust (stable, fault tolerant, highly available, recoverable).
All content and user menus in both Khmer and English languages, with the capacity to toggle between the two languages at all levels
Develop Comprehensive Users' Manual
Feature of Each Page especially Resource Page
Ability to access data and functionality through Application Programming Interfaces (API's) and to easily add or import instructional and pedagogical contents from various sources such as Document files and YouTube.
Ability to search and download the available materials based on content in website, document type, or topic.
Ability to track the number of content views, contact downloads, time spent, etc.
Ability to share the available content using Addthis Plugin to Social Media such as Facebook and Telegram.
Ability to register as Content Contributors (Project Staffs) in order to add, import, and archive the contents.
Ability to register as Administrator in control all the features
Feature of User (Content Contributors):
Access to lost password functionality (based on e-mails and Facebook account)
Uploaded article will be pending for review/approve before publishing
Receive notification after the content will be published
Feature of Administrator:
Edit settings
Configure homepages
Configure display settings, display styles, language settings
Edit standard messages from the content portal (e.g. general conditions, email notifications)
Manage user registration/Set up new users
Manage all users' permission/ privileges
Monitor active users
Manage content uploading and approval before the content is published on the content portal.
Access logs of user and system activities with tracing options
Send notification for specific group/target audience (through emails and/or messages on the home page)
Use monitoring tool and Dashboard
Required qualifications include:
The successful consultant should have combined skills and backgrounds include significant professional experience in designing, implementing and managing website development. S/he should possess the following minimum requirements:
Advanced University degree in software engineering, computer science, or equivalent plus related fields with web development
At least three years of professional work experience in web development
Well-organized, with good planning, project management, and problem-solving abilities
Ability to communicate well in both Khmer and English a strong advantage
Application:
For Firm:
• Completed technical proposal
• Completed financial proposal including VAT
• Up-to-date CV with a detail information outlining relevant experience
• Business Registration and Tax Registration
For Individuals:
• Completed technical proposal
• Completed financial proposal
• Up-to-date CV with a detail information outlining relevant experience
Applications must be submitted to HR Office at KAPE on or before February 10th, 2020 at 5:00 PM. Interested applicants may submit proposals and CV to: Mr. Chuon Saran, Email: saran@kapekh.org, CC to: Mr Chhorn Chhayyuth, Email: chhayyuth.chhorn@kapekh.org and Dr. Chan Roath, Email: mailto: chanroath@kapekh.org Subject: Applicant for Website Development Consultant, KAPE Main Office in Kampong Cham. Shortlisted candidate will be invited to an interview where they will be requested to present an outline of their propose approach.
Technical Clarification: Any questions please contact Mr. Chhorn Chhayyuth (English & Khmer Speaker), EdTech Coordinator, Tel.: 092 416 241, Email: chhayyuth.chhorn@kapekh.org
The content of website of NGPRC
d
| | | | | | | | |
| --- | --- | --- | --- | --- | --- | --- | --- |
| HOME | About NGPRC | PROGRAM | PRACTICAL INFORMATION | PEDAGOGICAL RESOURCES | BLOG | EVENT | CONTACT US |
| | Background | What is mentoring? | Opening time | Materials Related to the Program | Recent News | Conference | Address, Phone, Email, Facebook page, YouTube |
| | Vision, Mission, Goals | Syllabus (Streams, Thesis, Practicum) | Academic Calendar | Publications | Testimonies | Workshop | |
| | Governance Structure | Soft Skills and Leadership Club | Location | Resource Links (Accessing Journal for Research) | Pedagogical Considerations | Community | |
| | PARTNERS (MoEYS, NIE, KAPE, Child Fund, FFF) | Research | How to Apply (Requirement, Selection Process, Application Form, Sample of Written Paper, Contract, Concept Note for Research, | Thesis | | Visiting Lecturers | |
| | They Talk about Us | | Results of Entrance Exam | International Journal | | | |
| | | | Rule & Regulations and Scholarship Refunding Guideline | Teaching Models | | | |
| | | | Jobs Opportunities | | | | |
42
Preschool(s)

172
Primary Schools

110
High Schools

7
Higher Education Institutions

120,831
Students

2,806
Teachers/Directors

1,496
Stakeholders