KAPE Efforts Fighting Misinformation and Disinformation Though Training of Trainers (ToT) in Cambodia
Date : 2022-12-21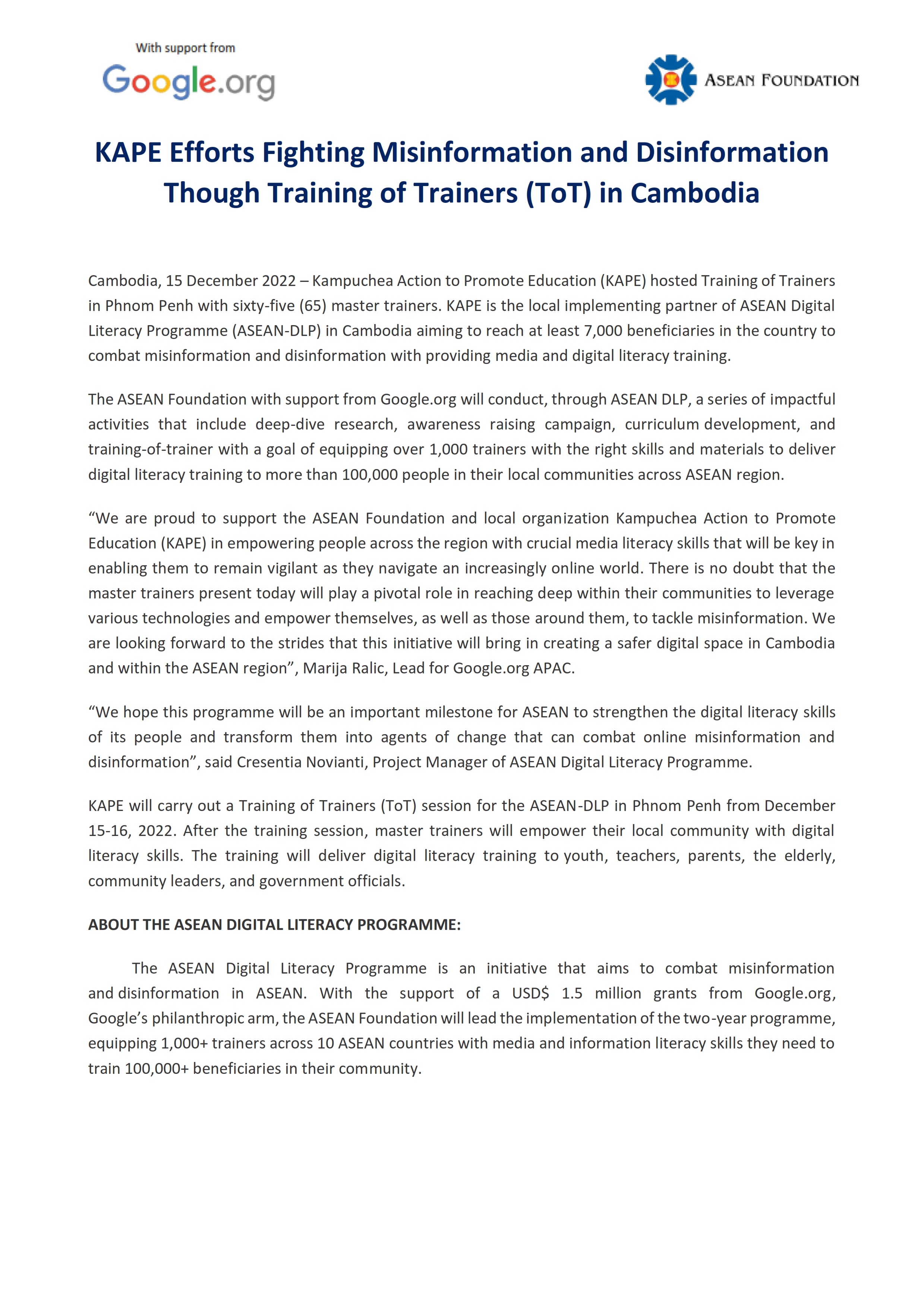 Cambodia, 15 December 2022 – Kampuchea Action to Promote Education (KAPE) hosted Training of Trainers in Phnom Penh with sixty-five (65) master trainers. KAPE is the local implementing partner of ASEAN Digital Literacy Programme (ASEAN-DLP) in Cambodia aiming to reach at least 7,000 beneficiaries in the country to combat misinformation and disinformation with providing media and digital literacy training.
The ASEAN Foundation with support from Google.org will conduct, through ASEAN DLP, a series of impactful activities that include deep-dive research, awareness raising campaign, curriculum development, and training-of-trainer with a goal of equipping over 1,000 trainers with the right skills and materials to deliver digital literacy training to more than 100,000 people in their local communities across ASEAN region.
"We are proud to support the ASEAN Foundation and local organization Kampuchea Action to Promote Education (KAPE) in empowering people across the region with crucial media literacy skills that will be key in enabling them to remain vigilant as they navigate an increasingly online world. There is no doubt that the master trainers present today will play a pivotal role in reaching deep within their communities to leverage various technologies and empower themselves, as well as those around them, to tackle misinformation. We are looking forward to the strides that this initiative will bring in creating a safer digital space in Cambodia and within the ASEAN region", Marija Ralic, Lead for Google.org APAC.
"We hope this programme will be an important milestone for ASEAN to strengthen the digital literacy skills of its people and transform them into agents of change that can combat online misinformation and disinformation", said Cresentia Novianti, Project Manager of ASEAN Digital Literacy Programme.
KAPE will carry out a Training of Trainers (ToT) session for the ASEAN-DLP in Phnom Penh from December 15-16, 2022. After the training session, master trainers will empower their local community with digital literacy skills. The training will deliver digital literacy training to youth, teachers, parents, elderly, community leaders and government officials.
ABOUT THE ASEAN DIGITAL LITERACY PROGRAMME:
The ASEAN Digital Literacy Programme is an initiative that aims to combat misinformation and disinformation in ASEAN. With the support of a USD$ 1.5 million grant from Google.org, Google's philanthropic arm, the ASEAN Foundation will lead the implementation of the two-year programme, equipping 1,000+ trainers across 10 ASEAN countries with media and information literacy skills they need to train 100,000+ beneficiaries in their community.
Link to other Website
International NGOs
Local NGOs
Media
Ministries of Royal Government of Cambodia
Other links
42
Preschool(s)

172
Primary Schools

110
High Schools

6
Higher Education Institutions

120,831
Students

2,806
Teachers/Directors

1,496
Stakeholders