3rd Annual KAPE's Scholar Alumni Event
Date : 2017-03-11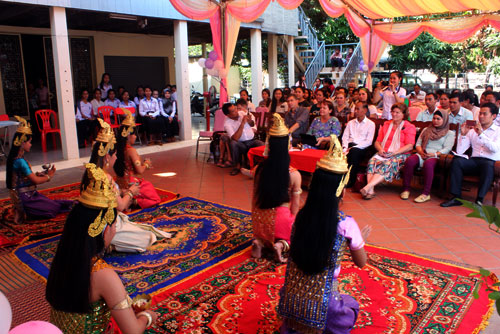 The former scholarship students of cohort 1 and cohort 2 and the recent scholars of cohort 3 from KAPE's Inclusive Education Program (IEP) held the annual alumni meeting in the afternoon on 11 March 2017 in Phoum Ti Muoy, Sangkat Veal Vong, Krong Kamong Cham, Kampong Cham province, in aiming to connect and strengthen relationships among the former scholarship students with KAPE. This meeting was focused on sharing experiences in studies and work and strong relationships to the current cohort 3. The program was attended by honorary foreign guests who have also taught the cohort 3 scholars, stakeholders as well as KAPE's staff. This meeting was organized by the cohort 3 scholars and facilitated by KAPE. The cohort 3 performed traditional Khmer dances, poems, short educational drama related to the taste of life, singing and dancing very happily.
Attending the meeting as presided, Hin Simhuon, KAPE's vice executive director, said, "Today is a great day that we have rarely met. The scholars are younger brothers and children having good jobs and challenged a lot of new things in life. They leave their homes away from their parents to continue their studies which are supported by Cambodian Tertiary Scholarship Program (CTSP)." He continued, "It's a good chance that they had graduated and gotten jobs to do. Then, they gathered together for sharing experiences by the cohort 1 and 2 to the younger generation (Cohort 3) to learn about the heroics from the previous cohorts in order to get good jobs and succeeded in learning."
Although KAPE's scholars graduated in the following years especially the former cohort students of Cambodian Tertiary Scholarship Program, KAPE still continues strongly to seek donors to continue supporting the future scholars, and building a solidarity network to connect all scholars and coordinate them to access to have regular reunion meetings every year in perpetuity. After each cohort is ended and another cohort starts and learn from the previous cohorts including experiences in studies, employment and the ways to successfully build and lead a family.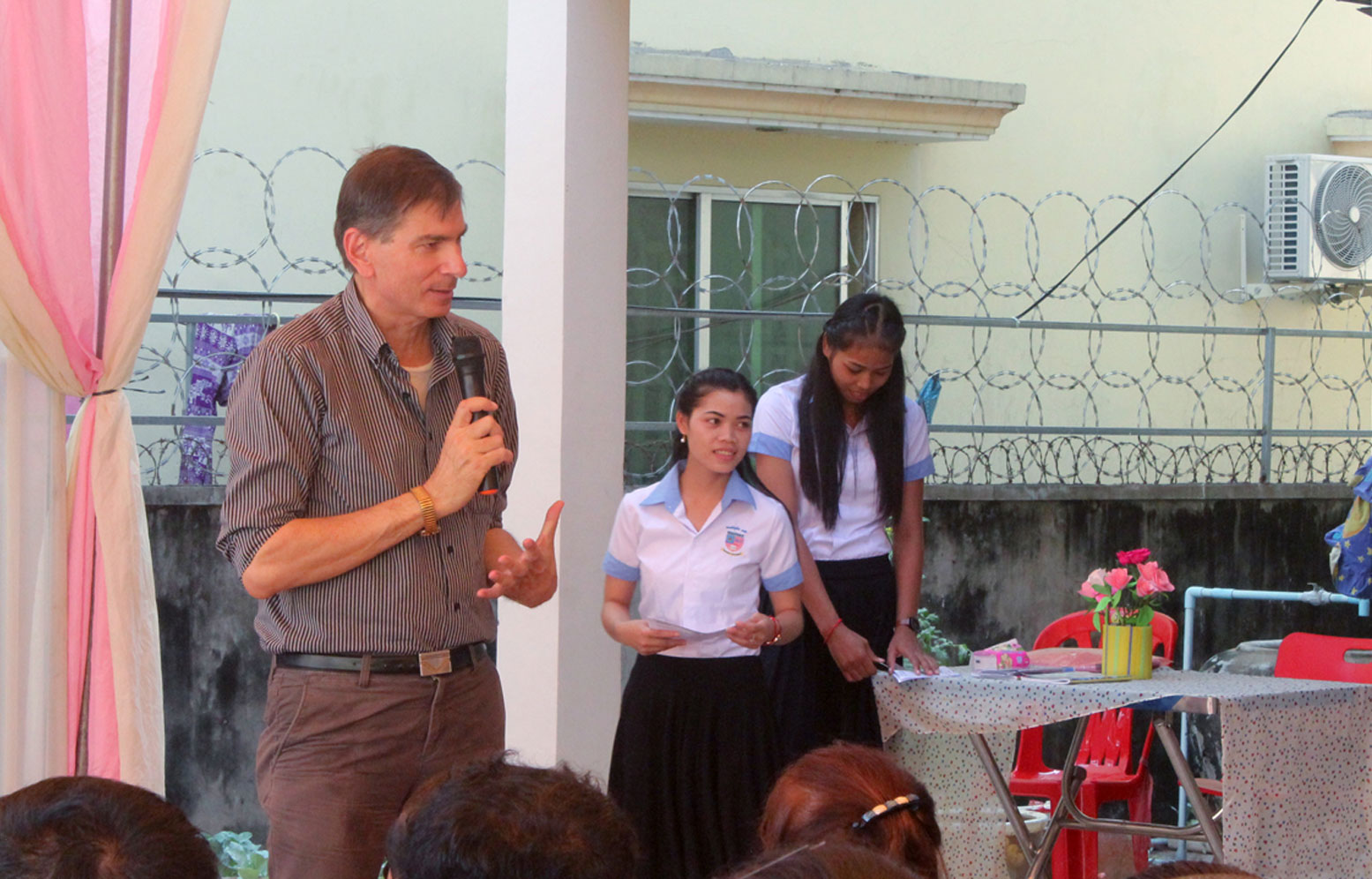 Mr. Kurt Bredenberg, KAPE's senior technical adviser, said that "this is a very good opportunity for KAPE due to it shows what KAPE has done good things so far. Development is giving the people the choice of life. Constructing roads and schools are based on leading people to have choices of life. Today, I'm very happy to see our scholars, who used to have no choices of life, have now had choices of life that is what KAPE has so far achieved. KAPE has a lot of experiences and significances for its future because there are now two new donors who are very interested in our CTSP activities. We hope that CTSP will be widely bigger and extended for the poor girls and boys to study. Since 1999, KAPE has been born more than two decades and very soon reach the 3rd decade. Therefore, KAPE become a sustainable agency consisting of good opportunity to continually extend its educational programs. Those two new donors have now become millionaires. They never forget to help the poor. They want to take part in constructing the society such as helping the poor students have choices of life. I expect that our KAPE's scholars today will never forget KAPE and will have possibilities to help the next generation have choices of life as well. The meeting is so much appreciated because we have good relationships with our former scholars, current scholars and KAPE."
Inclusive Education Program (IEP) have so far provided many PTTC students with scholarships. The PTTC director said that "This is a rare occasion in relationship with our scholars. The older students teach the younger. The previous cohorts have to pave ways for the next cohorts. Therefore, it is reflected the knowledge and skills of each cohort very importantly. I would like to give my very deep gratitude to KAPE who have significantly contributed to the education sector. KAPE has helped government do a lot of work in education in order to improve basic education in Cambodia. I recognize that KAPE has provided many scholarships to my poor PTTC students. Finally, I wish all donors and KAPE success and continue to help more poor students."
Today, the annual alumni meeting on sharing experiences makes a strong impression from participants and generous people in aiming to motivate all scholars to study hard and find good choices of life and continuously share this success to the next cohorts.
Ms Chhun Sopha, CTSP's former scholar in cohort 1 from Ponhea Krek district, Tbaung Khmum province and is currently working for KAPE, said that, "I'm so much happy that I'm given the chance to give my impression on this meeting podium. If talking about my past life condition, I could not have any chances to continue my studies at university and be able to join this meeting if KAPE did not help me. I'm an orphan and having to live with my relatives. I was very lonely after I graduated Grade 12. I did not know what to do because no one could support me. I would like to give my deep gratitude to KAPE who provided 4-year scholarship to me. It motivated so much. I studied hard and got good results in my class. And I got a good job to do after my graduation. Regarding to work experiences, I'm a Project Finance and Admin Officer that is mainly based on honesty and struggling. I work without focusing on time in or out but I most focus on my work competed or not yet? If we compare KAPE's scholars studying at university with other students out of KAPE's area, KAPE's scholars have more times to study and have monthly meetings to evaluate our study results. KAPE's scholars stay in the dormitory together for 4 years. We know each other well. At nights, we study in clubs, groups and raise questions for each other including English literature, Computer and short training courses (finance, statistics,…etc.) facilitated by KAPE to hire/invite specialists from the city and other institutions to train us. I got high scores." Ms Sopha continued, "My university lecturers said that KAPE's scholars are good students with high scores. They compete each other when the exam takes place."
Ms Mol Sothea, the CTSP's former scholar and currently works as an admin staff and used to work for KAPE in 2015-2016 showed her impressions that "I'm very happy today. I would like to say "thanks so much" to KAPE who provided me with scholarships, experiences in work communication and other work especially since I have been passed scholarship to study at university." Ms Sothea raised three main points to share in this meeting. She stated, "The first is the work relationship with KAPE's staff because they are my good colleagues who cooperatively work, communally contact, exchange ideas and help each other. I consider KAPE as my family as well. The second is the good team work at KAPE. KAPE's staff help others when they are free. The third is skill related to school development, work with teachers, directors and students as Mr. Kurt mentioned above that we make our young scholars have choices of future life. It is also my skill because I do like it." Ms Sothea continued, "I currently undertake a position of administration at Technology Institute of Kirirom in the Kirirom resort, Kampong Speu province. Working with diversified races of people is very difficult for me including Philippinos, Indians and Japanese. Sometimes, I have to get mails from my boss at night and have to work at night according to the really urgent work." Ms Sothea said that her job is the administrative staff but I have to work as the institute director. If I work as the institute director, I would be working as the boss of my current job. Good job is based on the result but it is not based on the time in or out. The more we work for them to get higher benefit, the more investment we have to put our ability in. She said she had worked over there for 6 months that provided her a lot of good results. She said, "I have achieved some of my goals. We work because we want to improve more. So we also challenge and change more than we work in only one place."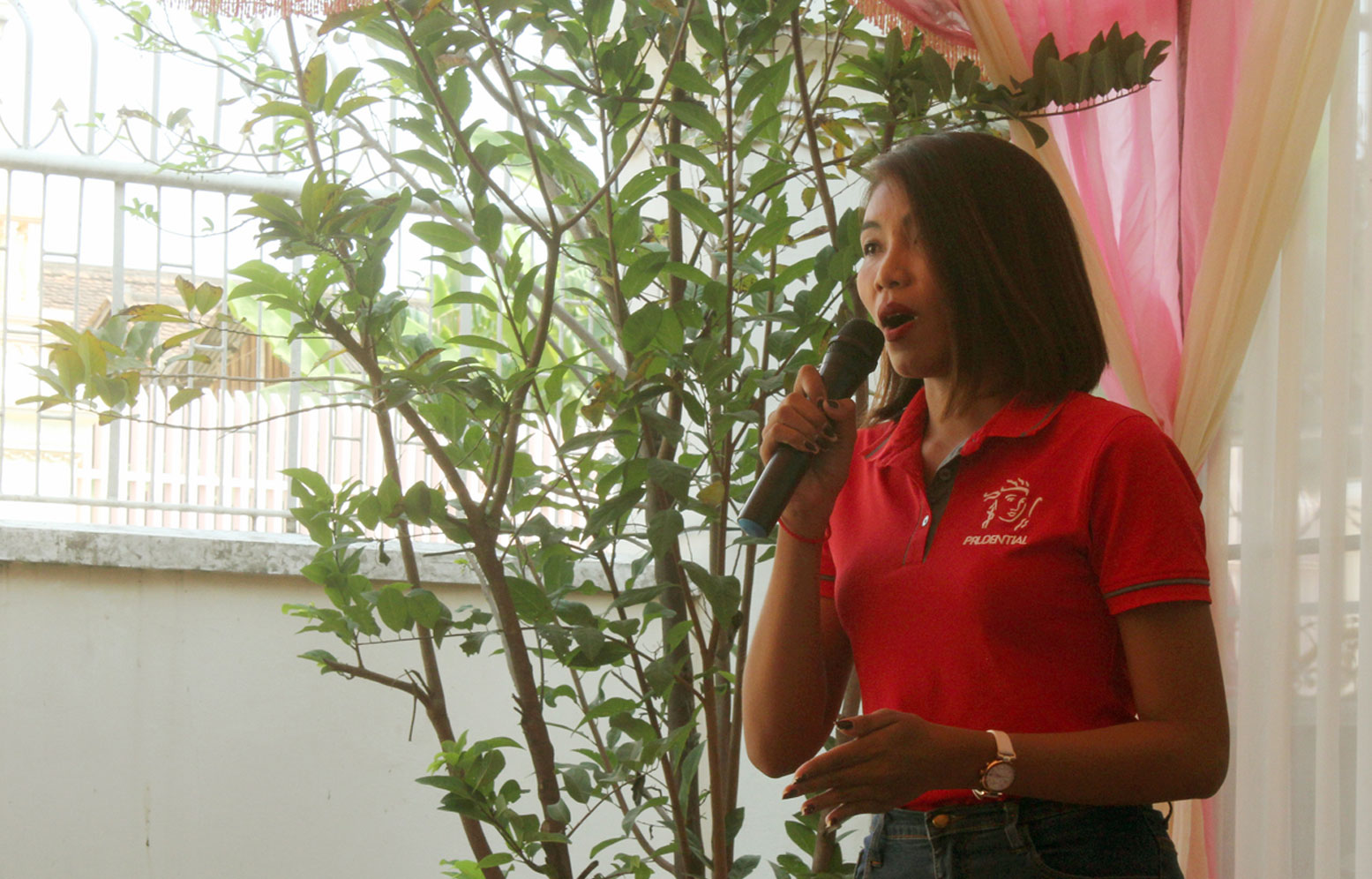 Ms Pav Vanchan, the KAPE CTSP's former scholar who shared her experiences in this meeting, is working for Prudential Company cooperated with ACLEDA Plc. She said, "I have achieved my goals so far because I try to study so hard. We study not just study one thing but we have to take extra short courses especially we should voluntarily join the social work while we are studying. Don't say that "I'm lazy to work!" Or just study ahead. I don't personally think like that. I have voluntarily joined in various social work in order to get experiences. On behalf of CTSP's scholar, I want to clarify that I have now achieved my goals due to my struggle. We all know that ACLEDA consists of stricted policies of professional work. Regarding to trainings and staff of Prudential and ACLEDA, there are many managers who are responsible in their section. For example, greeting and preparing clients, administrative and sales. Work is really related to the study. When we try to study so hard, manage self-development and leadership, our big job will be also successful. For example, if we study by our habits, never care of anything or interesting in something, not have personal management, your results are the same. I want my next cohorts to try studying hard based on what KAPE has helped. Work teaches us both failure and success. But the most important thing is we can accept our failure to change to success."
Mr. Buth Soksan, the IPE's former scholar of cohort 33 and recently becomes a public teacher, said, "I am very happy that I have ever received scholarship budget from KAPE to support my study at the Provincial Teacher Training College (PTTC). During my study, KAPE helped me more study in clubs, sharing knowledge and friends helped friends in order to allow the PTTC students to understand various matters and experiences. Teaching Grade 1 is very difficult because it looks like we catch grabs​ to put in trays. We have to struggle to succeed our goals. I encourage to prepare this annual meeting in perpetuity."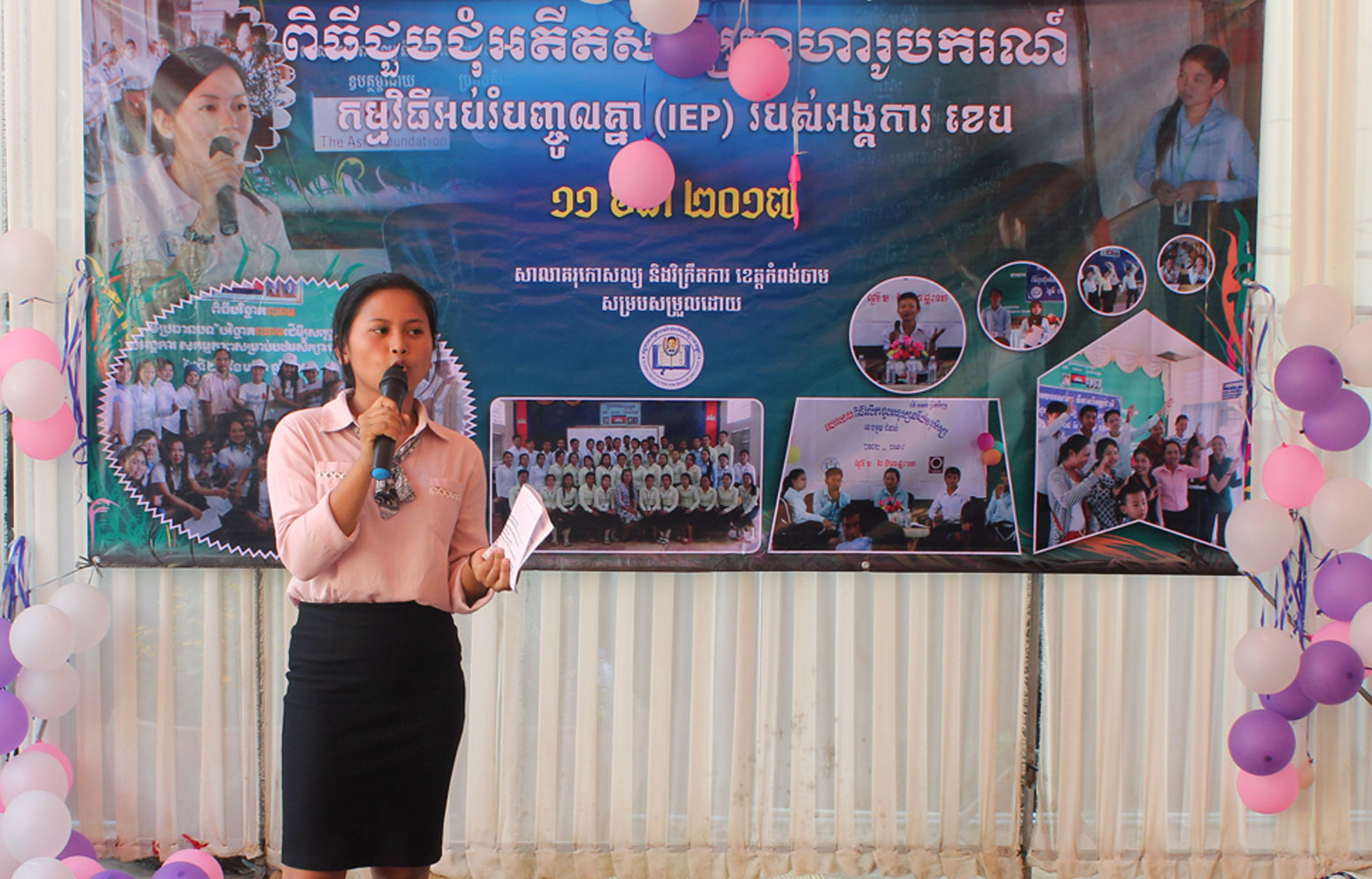 The another IPE's scholar said, "After I graduated from the Provincial Teacher Training College (PTTC) for two years, I passed my teaching exam to teach at the primary school near my house. I am able to stand and speak during this meeting because KAPE had provided scholarship to me since I was studying at secondary school and more two years at PTTC. By that time, I had a lot of experiences in living and studying with friends from Kampong Thom province. I have my own dream that I can do. I can pass the foreign scholarship. We have to set our big dream that makes us try to study hard. I want to be a businesswoman in my future as well."
This Alumni meeting today is the 3rd history after the 2nd Alumni meeting in 2016 supported by the stakeholders, former scholar cohorts and generous people. Each of the alumni members voluntarily contribute 1$ per month to raising fund box to help poor students who could have opportunities to continue their studies if they get supported globally. .
42
Preschool(s)

172
Primary Schools

110
High Schools

6
Higher Education Institutions

120,831
Students

2,806
Teachers/Directors

1,496
Stakeholders